HDK0202A2U-USBK
2 Port Dual Monitor KVM Switch Kit HDMI+DP 4K60Hz with USB 3.0 Docking Station, EDID
Regular price

Sale price

$239.99
Due to the popularity of the Black Friday event, it is currently on pre-sale. Expected to begin shipping orders from the US on Dec 11th.
---
Latest upgrade:
2 USB 3.0 ports with one offering charging capabilities.
The new front panel buttons make it easier to switch and control the monitor signal.
Newly added an integrated microphone and L/R audio output.
About this item:
The KVM switch kit comes with two complete KVM-to-PC cables, each including one USB cable and two HDMI cables.

Efficiently manage two PCs with a single keyboard, mouse, and dual 4K60Hz displays.

Designed specifically for computer devices that use one HDMI and one DP to achieve dual-monitor display.

Easily handles 4K60Hz, 3440x1440@100Hz, 2560x1440@120Hz, and more, compatible with HDMI 2.0 and HDCP 2.2.
2 display modes: Extend or split desktop for adaptable computer display on each monitor.
3 ways to switch inputs: hotkeys, front button, or remote control, and seamless keyboard and mouse operation after switching.
EDID emulation prevents resolution and icon rearrangement.

K&M pass-through for wide keyboard compatibility: wired, wireless, mechanical, and gaming keyboards.

Share USB 3.0 and audio peripherals for added convenience.

Compatible with Windows, Mac, and Linux, and perfect for various scenarios: home, office, or education.
2-PC Dual Monitor KVM Models Comparison:
| | | | | | |
| --- | --- | --- | --- | --- | --- |
| Model | Edition | Interface | Resolution | USB Hub | Audio |
| HKS0202A2U | Upgrade | HDMI+HDMI | 4K@60Hz | USB 3.0 Hub | Audio I/O |
| HDK0202A2U | Upgrade | HDMI+DP | 4K@60Hz | USB 3.0 Hub | Audio I/O |
| HKS0202A10 | Multifunctional | HDMI+HDMI | 4K@30Hz | USB 2.0 Hub | Audio I/O |
| HKS0402A1U | Classic | HDMI+HDMI | 4K@60Hz | USB 2.0 Hub | Audio Out |
| HDK0402A1U | Classic | HDMI+DP | 4K@60Hz | USB 2.0 Hub | Audio Out |
| HKV0402A1U | Classic | HDMI+VGA | 4K@60Hz | USB 2.0 Hub | Audio Out |
Share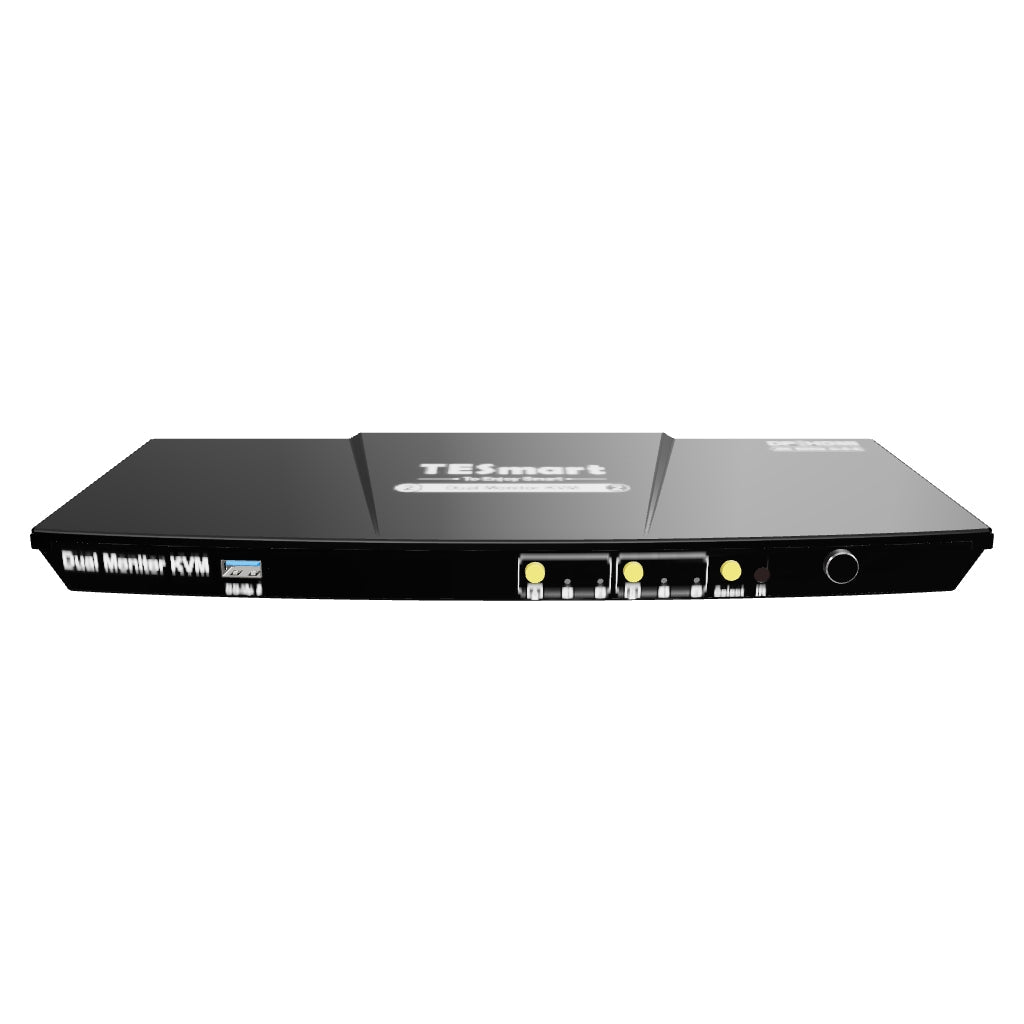 Free US Shipping

Fast delivery from the local warehouse

Hassle-Free Return

30 Days Money Back Guarantee

Secure Payment

No Payment information will be stored

Lifetime Tech-Support

Official Professional Customer Service
KEY FEATURES

KEY FEATURES

Efficient Management: Utilize one keyboard, mouse, and dual 4K60Hz displays to manage two PCs with ease.
Dual-Monitor Functionality: Connect each PC to the KVM switch using one HDMI input and one DP output.
Two Operating Modes: Choose from extended desktop mode or split desktop mode (each computer displays on 1 monitor simultaneously).
USB 3.0 Sharing: Two USB 3.0 ports with one offering charging capabilities. Share printers, jump drives, USB headsets, and webcams for teleconferencing.
Integrated Microphone and L/R Audio Output: Add diversity to your audio experiences.
Keyboard & Mouse Compatibility: Works with a variety of keyboard types: wired, wireless, mechanical, and gaming.
Easy Setup: Plug & play with no drivers required.
Cross-Platform Compatibility: Suitable for Windows, Mac, and Linux. Ideal for home, office, or education environments.
OTHER FEATURESMultiple Ways to Switch Inputs: Use keyboard hotkeys, front push buttons, or remote control.
Assignable Hotkey Triggers: From Scroll Lock to Right-CTRL.
Auto-Scanning: Adjustable time interval from 1 to 250 seconds.
Audio Transmission: Transmit audio over HDMI to monitors or external speakers via the KVM's stereo output.
TECHNICAL SPECIFICATIONSHDMI 2.0: Supports 3840x2160(4K)@60hz, 3440x1440@100Hz, 2560x1440@120Hz, QHD@120hz, FHD@120hz.
HDCP 2.2 CompliantEDID Emulation: Ensures stable resolution and icon arrangement.
No Delay, Zero Latency Keyboard, and Mouse SwitchingIR Remote Control: (Battery not included). Requires 2 AAA batteries.
Upgrade your productivity and efficiency today. Perfectly suited for your home, office, or educational needs.
Before You Buy

PACKING LIST

EACH PC MUST MAKE 2 VIDEO CONNECTIONS (HDMI+DP) TO KVM FOR DUAL MONITORS

1 * 2x2 HDMI+DP Dual Monitor KVM Switch
1 * DC 12V Power Adapter
2 * DP Cables
2 * KVM (HDMI+USB) Cables
1 * IR Remote Control
1 * User Manual

SHIPPING

We provide Free Express (UPS/USPS/DHL ) for US shipping orders.

1 YEAR WARRANTY, EXTENDED TO 3 YEARS

TESmart KVM switch comes with a 1-year warranty from the date of purchase. We offer a registration extension warranty program, register to extend the warranty to 3 years.The warranty covers any defects in materials or workmanship under normal use. We reserve the right to replace any defective product under warranty (No Repairs, Only Exchanges).
Support

FAQ

Support charging the devices like mobile phones and tablets connected to front panel USB-A port.
The switch must receive video signals on both HDMI inputs per PC for dual monitor output.
The audio integration port (the L/R and MIC) is transmitted via the USB connection. The USB A/B cable is required for audio.
Hotkeys are triggered via a keyboard plugged into the dedicated mouse or keyboard ports.
Emulation programming is locked and cannot be removed from mouse & keyboard ports.
Dedicated mouse & keyboard ports should not be used for other types of USB devices.
Use a powered USB hub to expand the number of USB 3.0 ports.
If the wireless mouse/keyboard is "jumpy", use a USB extender to reduce the distance from the receiver.
Please install 2 AAA batteries before using the remote control (battery not included).

COMPATIBILITY INFORMATION

Dedicated mouse & keyboard ports have emulation programming. Second-generation chipsets have "Passthrough Mode" to send special characters such as multimedia keys (play, pause, volume up/down, etc), which greatly improves keyboard compatibility.
Keyboard software such as Logitech Options, DAS Q, Corsair iCUE, etc conflicts with the emulation programming and limits the ability to use dedicated macro keys. We recommend using the KVM's USB 3.0 port as a workaround if this software is desired. The USB 3.0 port does not have emulation programming and therefore the KVM will not recognize hotkey switching commands. Please use a powered USB hub to expand USB connectivity, if needed.

MORE INFO
Renovate your hybrid life
Streamline your productivity with quick switching, stable performance, and wide device compatibility. Experience the convenience and efficiency of KVM Switch at a new level.
Great product
I had a couple of questions on hooking up the switch. Justin from TESmart replied back right away. I took a few pictures of what I was trying to connect and he replied back right away with additional cables that I needed. Justin then followed up to ensure that everything was working correctly. Excellent support and customer service.
Was easy to set up
Watched the videos for all models. I took inventory of what I had for inputs and outputs. Determined this was going to be best option. I found that on the Tesmart site I was able to get an Avico cable and this model at a cheaper price.
This was very easy for me to setup. Like I said I watched the videos to familiarize myself with the connections in advance. Had my Dell work laptop and home PC up and running in 5 minutes.
Working from home since March 2020 was forcing me to use my home PC for some tasks. Using my work laptop forced me to use the laptop monitor or swap cables. I now have mouse, keyboard and 2 - 32" monitors for both. Wil make work life easy and separate my home PC from being used for work.
I did have a 2 to 1 KVM - but required me to swap cables at the beginning and end of the day. This is a game changer for me.