HMA0404A60-USBK
4x4 4K HDMI Matrix Switch with RS232 and Quad Multi-Viewer
Regular price

Sale price

$239.99
---
Connects any of 4 HDMI sources to any of 4 HDMI displays.

High resolution up to 3840*2160@30Hz 4:4:4, HDMI 1.4 and HDCP 1.4 compliant. 

Each HDMI output support Quad Multi-Viewer mode and supports resolution up to 1920x1080@60Hz.

Smart EDID management, make it compatible with most display devices.

Easy control matrix via IR remote control, front keypad, or RS232 serial commands.
---
Check if the product's ports match your device.

Number of connectable computers: 4
Number of connectable monitors: 4
Type of input port(s): 4X HDMI
Type of output port(s): 4X HDMI
Max Resolution: 4K@30Hz

Tech Specs
Description
HDMI Matrix can greatly facilitate your management of audio and video devices. If you have multiple sources and display devices like game consoles, streaming boxes, projectors and monitors, our HDMI Matrix can help you match your devices at will. You can choose which output device to display which input device as you want, and you can also display one input device on multiple output devices at the same time, eliminating the troublesome of unplugging cables and switching devices, and greatly simplifying the device management. You can switch input ports with front panel buttons, IR signals and RS232 port.
This product also supports Quad Multi-Viewer mode, which can be applied to engineering, security, media and other scenarios.
Packing List

1 * 4x4 HDMI Matrix 
1 * DC 12V Power Adapter
1 * IR Remote Control
1 * User Manual
Key Features

Each HDMI output can share same input or select standalone input.
Support resolution up to 3840x2160@30Hz.
HDCP1.4 compliant.
Each HDMI output support Quad Multi-Viewer mode.
Supports two different resolutions in Quad Multi-Viewer mode: 720P60Hz or 1080P60Hz.
Support PCM, Dolby AC3, DTS5.1 and DSD audio format.
Matrix status could be memorized after power down, automatically restore previous matrix status after next power on.
Smart EDID management, make it compatible with most display devices.
Support 4 configurable user preset connections.
Easy to control matrix via IR receiver, front panel key and PC (via RS232 port).
Safety Measures

Please use 12V power supply for product installation. Using the wrong power supply can cause damage to the product and even to your equipment.
Cables (including power and charging cables) should be placed and routed to avoid creating electric, tripping or safety hazards.
If product has an exposed circuit board, do not touch the product under power.
Features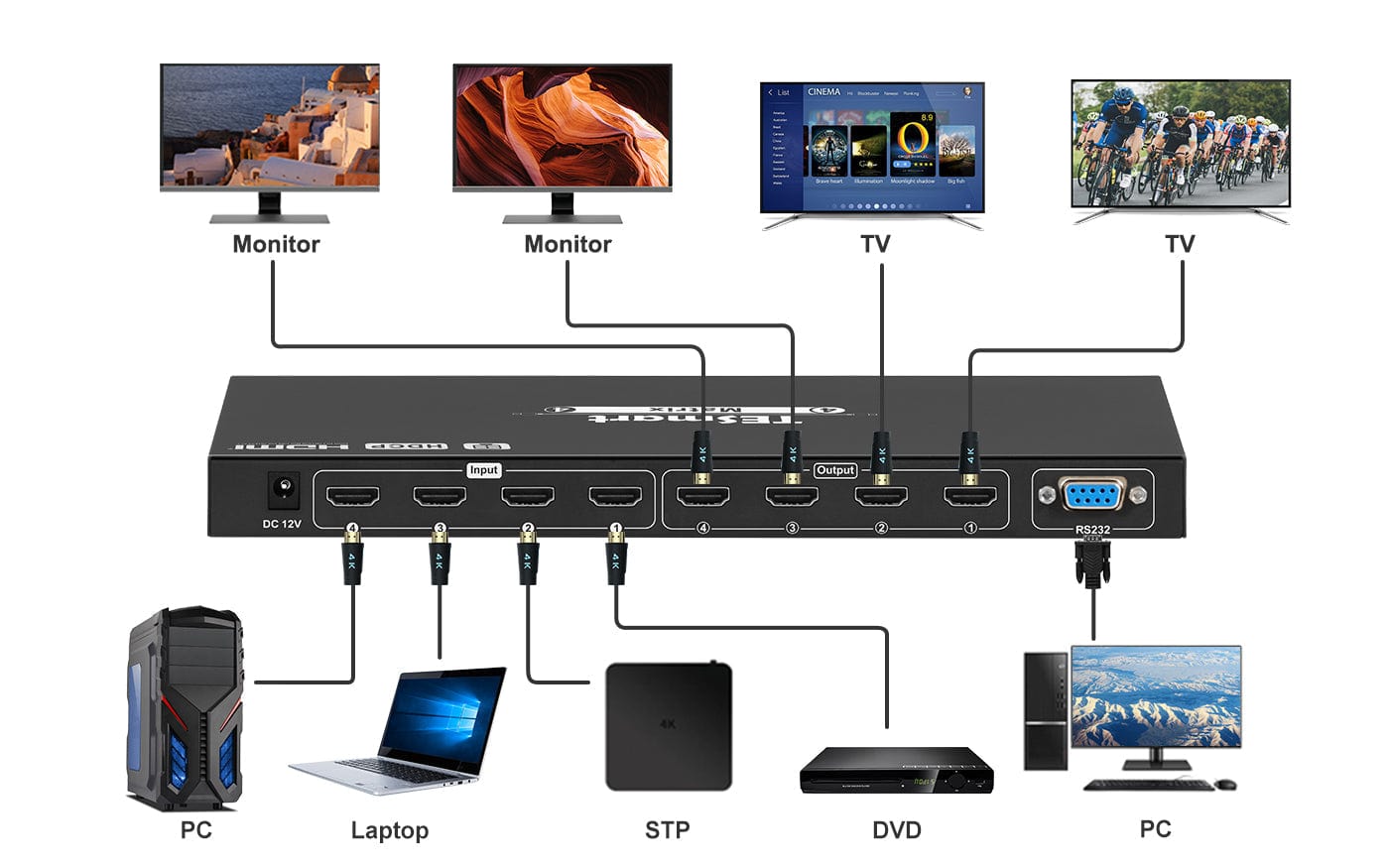 Flawless product so far
Works great! Exactly what we needed I bought three and have (23) TVs functioning on 8 cable box inputs !