HSW0801A1U-USBK
8 Port Rackmount HDMI Switch 4K@60Hz with RS232/LAN
Regular price

Sale price

$186.99
---
Support resolution up to 3840*2160@60Hz(4:4:4), HDCP2.2 compliant, with EDID emulators in each input port.

Support hot plug, connect or disconnect devices to the HDMI switch at any time and without turning off devices.

Support auto switching to monitor computers in a specified time interval

Support front panel buttons, IR signals, RS232 serial commands, or IP commands to control the HDMI switch

Supports DVI-D single link sources and displays with the use of HDMI-to-DVI adapters.
---
Check if the product's ports match your device.

Number of connectable computers: 8
Number of connectable monitors: 1
Type of input port(s): 8*HDMI
Type of output port(s): HDMI
Max Resolution: 4K@60Hz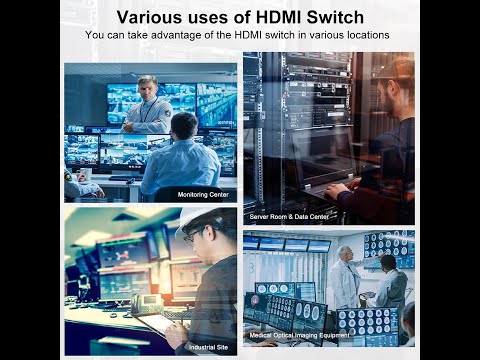 Tech Specs
Description
HDMI Switch can greatly facilitate your management of audio and video devices. If you have a home theater or entertainment setup with multiple sources and display devices like game consoles, streaming boxes, and projectors, it can be hard to manage in terms of cables and switching devices. Our HDMI switch can help you add more inputs to your TV or AV receiver if you have too many devices to manage. You can switch input ports with front panel buttons, IR signals, RS232 port and LAN port. At the same time, with EDID emulators in each input port, it can keep source devices always having correct display information. 
Packing List

1 * 8x1 HDMI Switch
1 * DC 12V Power Adapter
1 * IR Receive Cable
1 * 3 Pins Connector (For RS232)
2 * Rack-ears
1 * IR Remote Control
1 * User Manual
Key Features

With 8 HDMI inputs and 1 HDMI output.
Support resolution up to 3840*2160@60Hz 4:4:4.
HDCP 2.2 compliant.
With EDID emulators in each port, keep HDMI sources always have correct display information.
Support front panel buttons, IR signals, RS232 serial commands or IP commands to control HDMI switch.
Support auto scan mode.
Support auto detection mode.
Support Systems

Support Unix/Windows/Debian/Ubuntu/Fedora/Mac OS X/Raspbian/Ubuntu for Raspberry Pi and other Linux basic systems
Safety Measures

Please use 12V power supply for product installation. Using the wrong power supply can cause damage to the product and even to your equipment
Cables (including power and charging cables) should be placed and routed to avoid creating electric, tripping or safety hazards.
If product has an exposed circuit board, do not touch the product under power.
Wiring terminations should not be made with the product and/or electric lines under power.
Features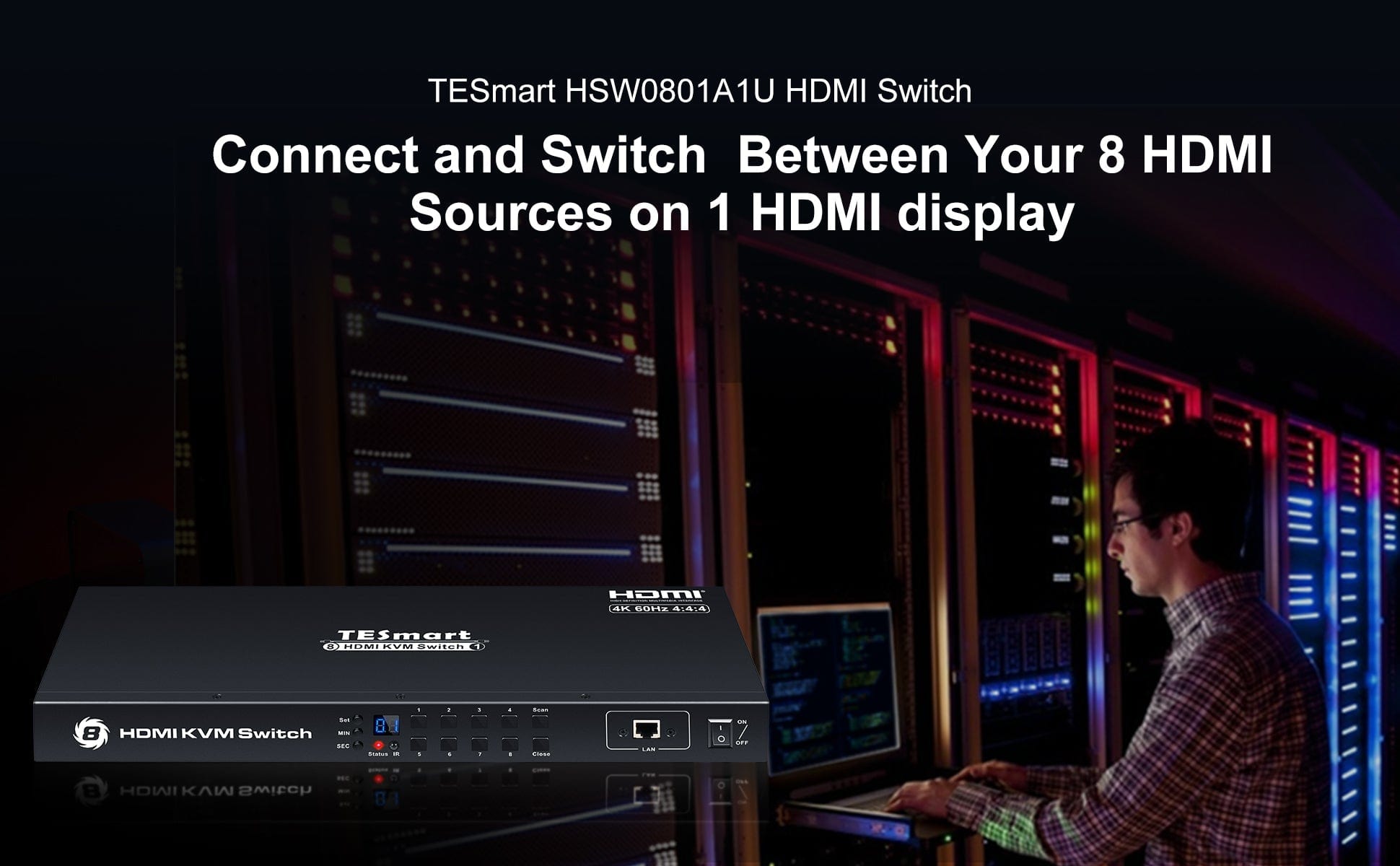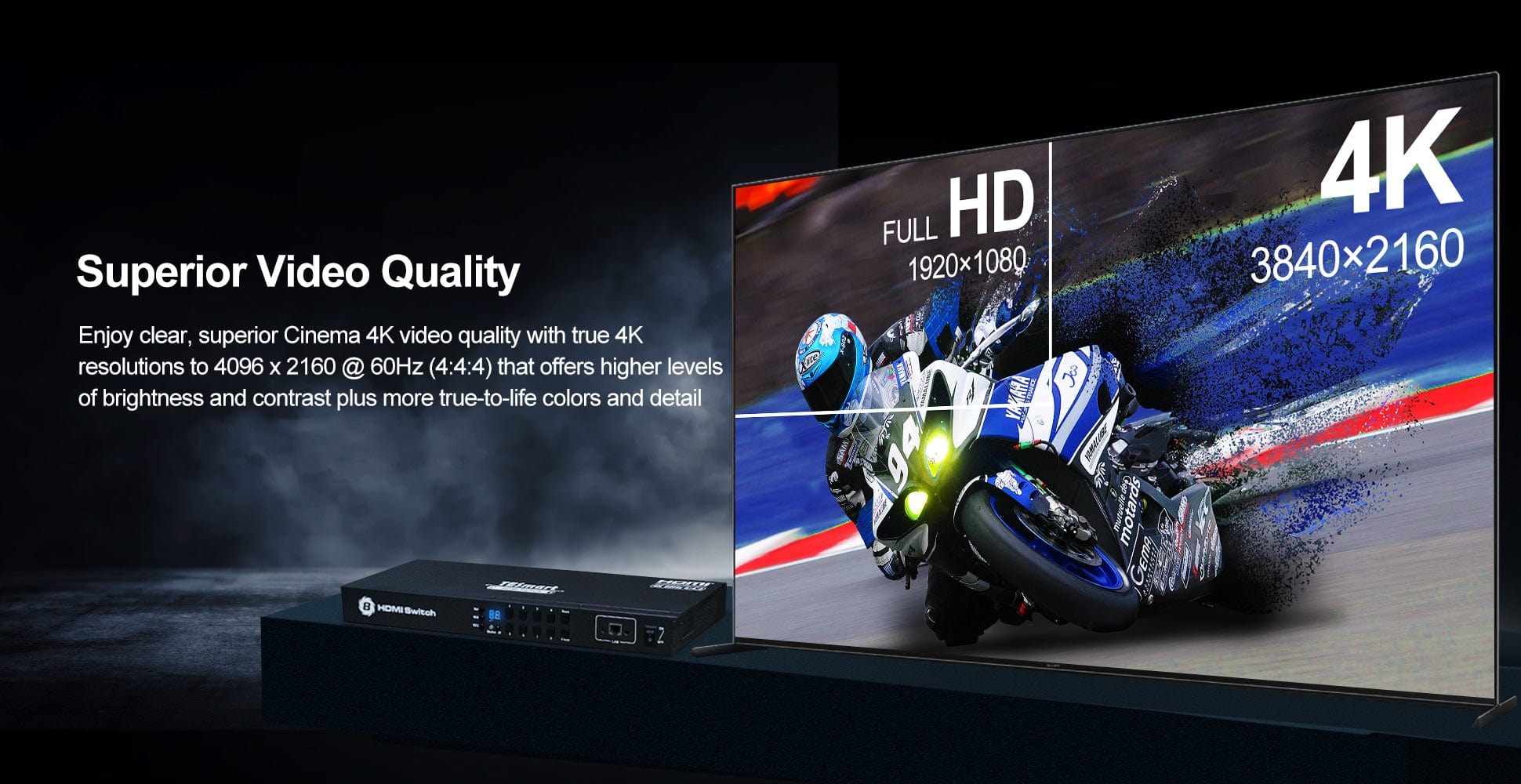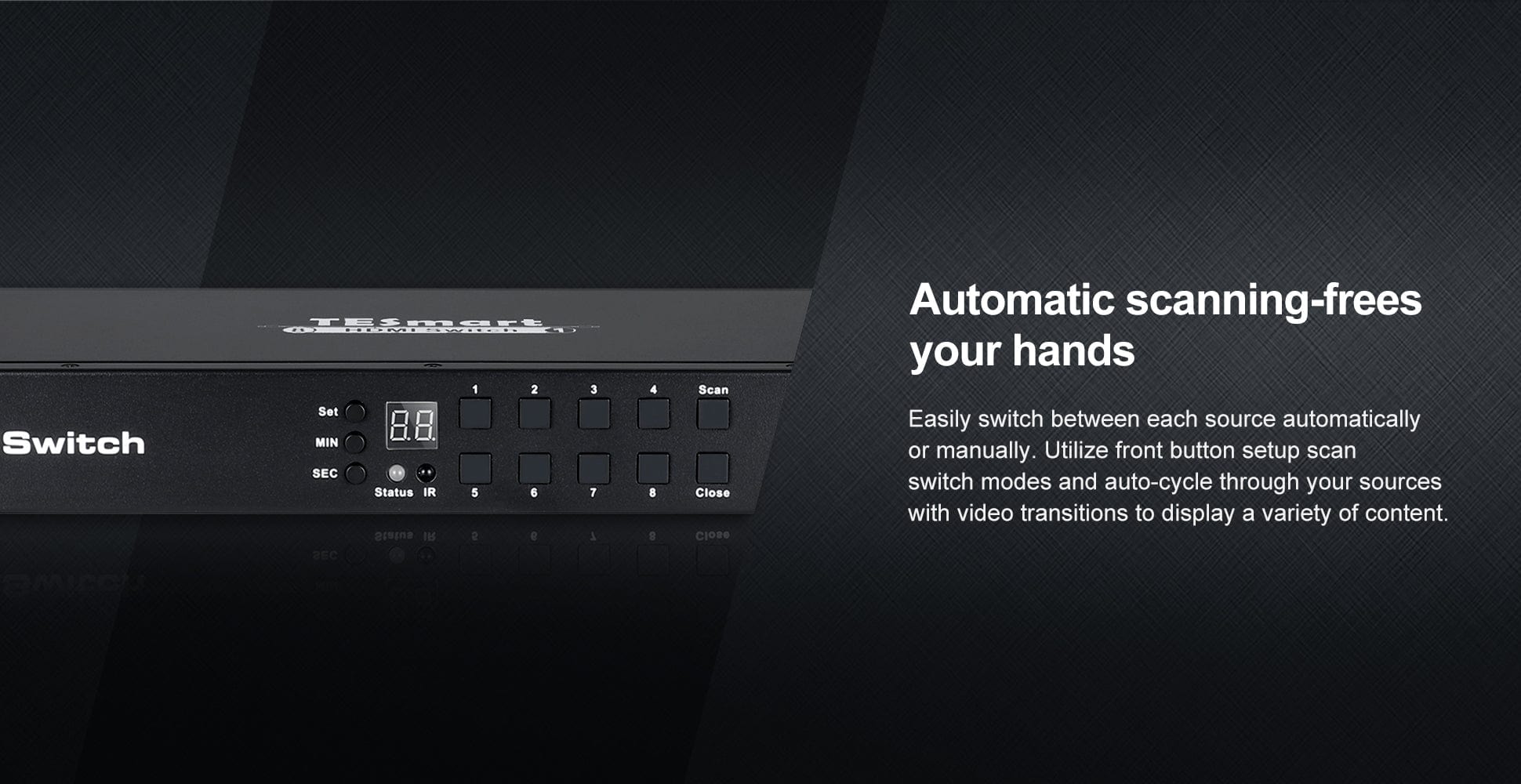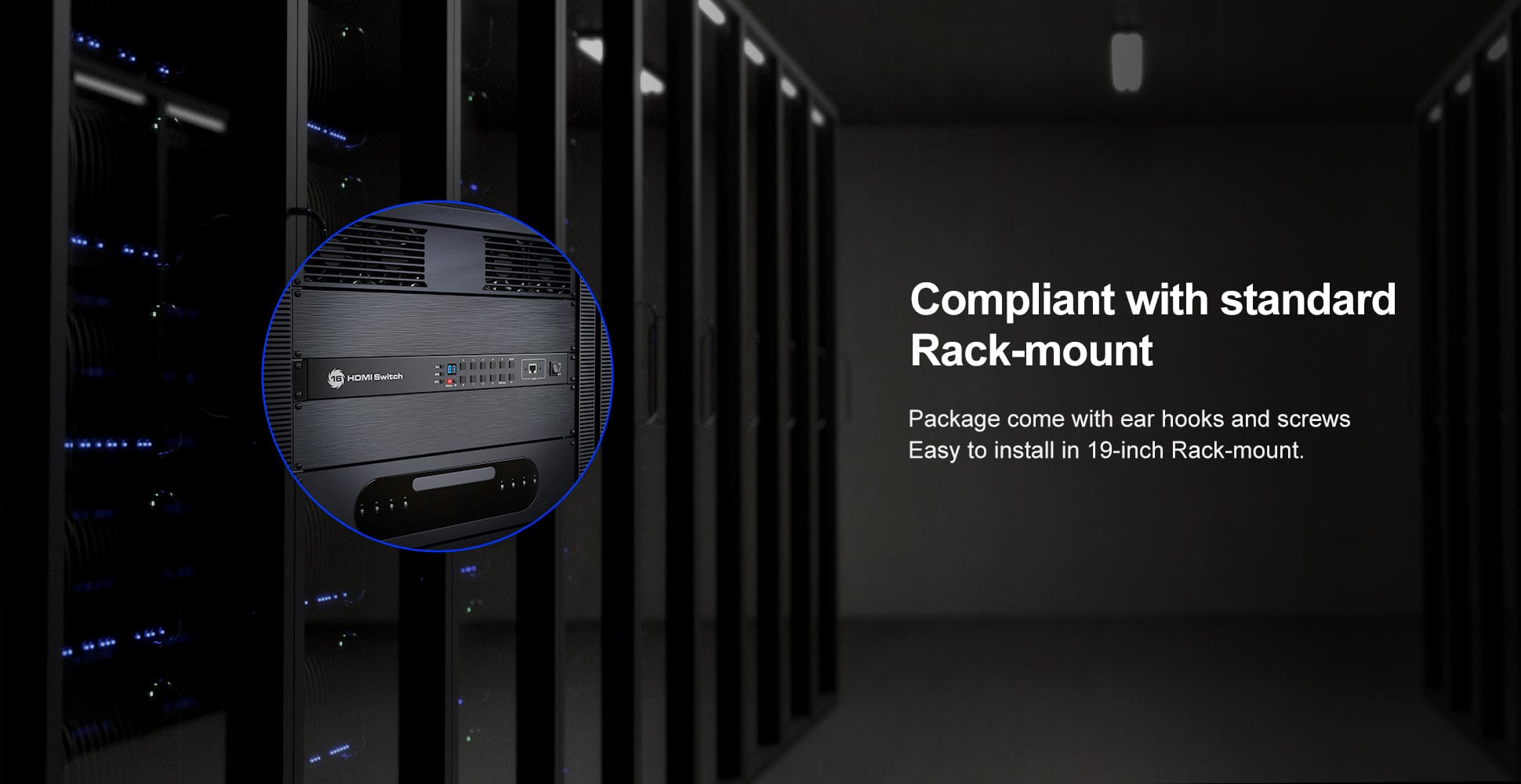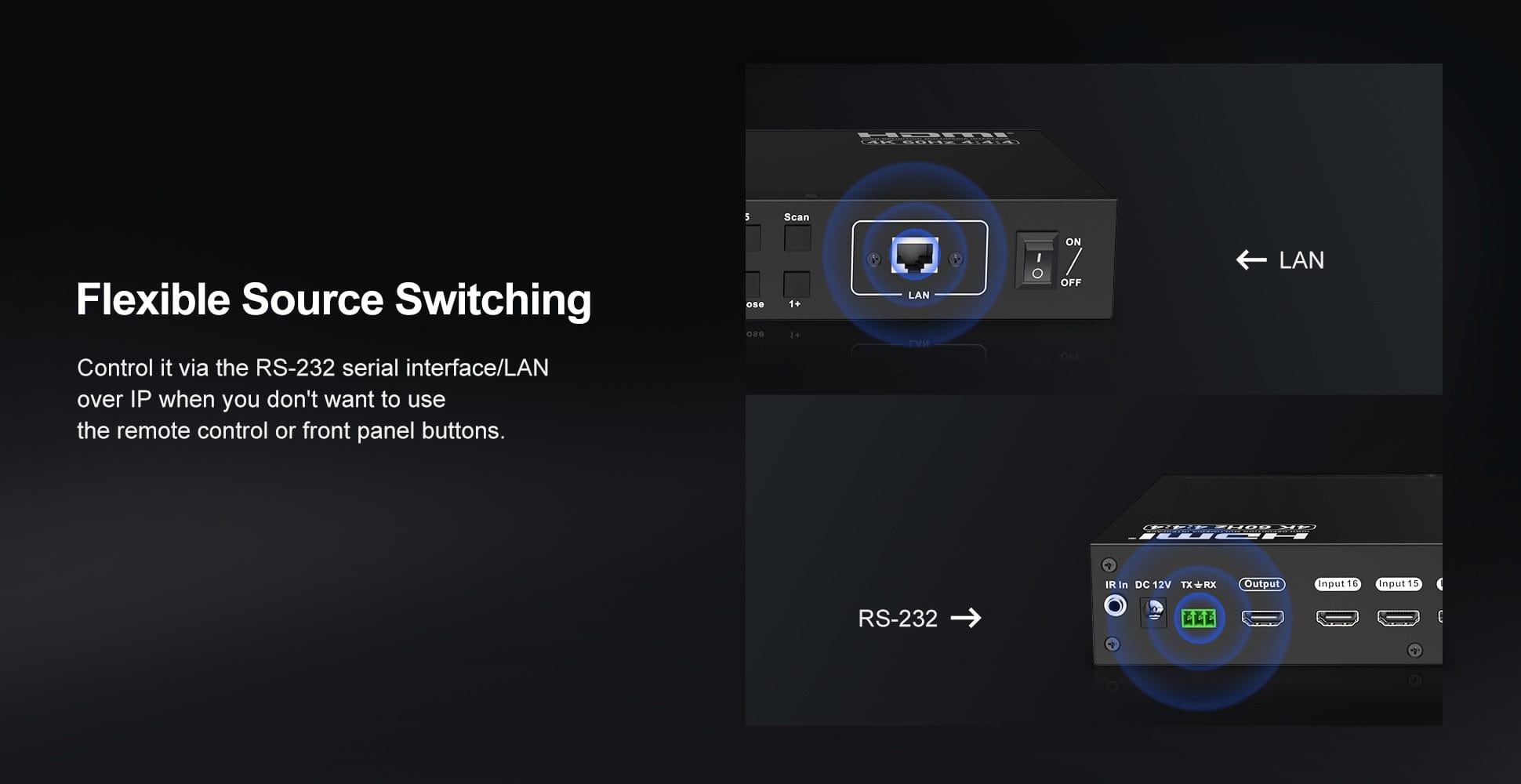 8 Port Rackmount HDMI Switch 4K@60Hz with RS232/LAN
I was querying something similar to electronic goods on google and when I came to your website and saw that you have added many items similar to electronic goods and I thoroughly looked at your website and read your blog, I liked your blog and your service is very good
hdmi matrix switch/">hdmi matrix switch< /a>
Solid product & good value, but with a few minor issues.
First, I want to acknowledge that such products are likely to be blamed for issues that might actually be the fault of the monitor, the source device, cables, or a software problem. So, I do have sympathy for the manufacturer, and perhaps that's why I'm willing to overlook a few minor issues and still award a 5-star rating, especially given the attractive price point and leading-edge capabilities.
I selected this product for 3 main reasons. First, I have a Kinesis keyboard that didn't work with my old KVM switch. I posted a question in the Q&A section and the vendor assured me it would work via the USB pass-through feature, which I can confirm it does! Second, I needed at least 1440p @ 60 Hz capability (which is the most I've tested, to date), but wanted some future capability for possible monitor upgrades. Third is the price, which is far less than more established KVM makers charge even for switches with inferior specifications.
What I tested: I tried all 8 ports and all 4 included cables. As mentioned above, the highest resolution I tried was 2560x1440 @ 60 Hz (but no audio or embedded Ethernet). I also tested with a 1600x1200 @ 60 Hz DVI monitor, using a HDMI -> DVI cable. The devices I tried include older Intel integrated graphics (Windows), two Nvidia GPUs (Windows & Linux), an older AMD GPU (Linux), a Raspberry Pi v3, and a ODROID-N2. The longest cables I've tried are 4.6m (15 feet). I've already mentioned my keyboard, but my pointing device is a Logitech Wireless that it seems to power just fine. I haven't tried network control or the OSD. I did try the IR remote, but have mostly used the front panel buttons.
Everything worked pretty much flawlessly, except for the ODROID that (with an open source driver on an up-to-date Ubuntu 20.04 arm64 install) failed to auto-negotiate with the 1440p monitor through the switch, but worked with direct-connection. From briefly looking at the logs, I think the issue was related to audio negotiation, since the monitor is audio-capable. Interestingly, I can boot it with a direct connection, then move it over to the switch and that works. So, the problem might even be specific to the graphical login screen. In any case, I'm no longer using it with that monitor, or else I'd have tried updating it to use the proprietary Mali GPU driver.
I like that some cables were included, but I think it's good they included only 4, because I'm actually using just 3 of them. They're about 1.5m and that's only long enough to reach 3 of my machines. I'm actually glad it didn't come with 8, since that would push up the price for 4 more cables I can't use!
Cons:
* I find the blue numeric LED uncomfortably bright. There's no way to dim it, but you can have it display just two dashes, which helps. I'm probably going to tape some mostly opaque material over it (probably a square cut out of an anti-static bag). I wish it had multiple brightness settings, or were simply a bit dimmer.
* No rubber feet were included. This is the same as my last KVM switch, actually. I got big, chunky feet for it, and was able to pry them off and stick them on this unit.
* The power cable is too short. I had to use an extension cord.
* There's apparently no way to do a firmware update. I can imagine network-based updates would be a security issue, but it'd be nice if you could update via USB?
* Speaking of the network port, it'd be nice if the control protocol were published.
* There's no indicator of whether the selected port is live, in any way. I know the switch can detect liveness, because it can automatically switch to machines when they're powered on (which it seems to me might be important for display autonegotiation?)
Overall, there's a lot to like about this switch. I like all the different control methods. I like the ability to disable the switching noise. The switch is fanless and stays cool, within the limited extent of my testing. The rackmount option is nice, but I'm not currently using it. The front panel on/off switch seems useful, though I haven't really needed it.
I spent a long time searching for the perfect KVM switch, and I'm happy to say I think this one is very close. Thank you!
Excellent switch
This switch arrived but the cables were missing. Again, I contacted TESmart and they made it right. These people have their act together. Just plugged it in, and it just works as supposed to.