HKS0401A2U-USBK
4 Port KVM Switch Kit HDMI 4K60Hz with EDID, 4 PCs 1 Monitor
Regular price

Sale price

$139.99
---
Note: HKS0401A30 comes with two 1.5m KVM (HDMI+USB) Cables
About this item:
Control 4 PCs with only 1 set of keyboard, mouse, and monitor.

Includes 4 x 1.5m HDMI/USB combo cables for PC-to-KVM connection.

3840x2160(4K)@60Hz 4:4:4 resolution support.

Exceptional K/M compatibility surpassing industry standards in pass-through mode.

Accurate monitor display with EDID emulation.

Multiple switching options: Hotkey, mouse, IR, and button.

USB 2.0 Hub sharing for printers, USB drives, and more.

Audio Out for convenient audio connectivity.
4-PC KVM Switch Models Comparison:
| | | | | | |
| --- | --- | --- | --- | --- | --- |
| Model | Edition | Resolution | USB Hub | Audio | Pass-Through |
| HKS0401A3U | | 4K@60Hz | USB 3.0 | Audio I/O | Yes |
| HKS0401A2U | | 4K@60Hz | USB 2.0 | Audio Out | Yes |
| HKS0401A2U-SE | | 4K@30Hz | USB 2.0 | Audio Out | Yes |
| HKS0401B2U | | 4K@60Hz | USB 2.0 | Audio Out | Yes |
| HKS0401A1U | | 4K@60Hz | USB 2.0 | Audio Out | No |
| HKS0401A30 | | 4K@30Hz | USB 2.0 | Audio Out | No |
Share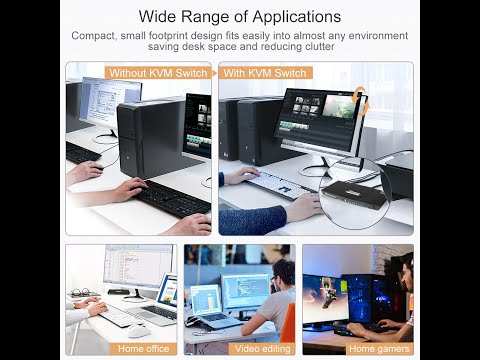 Free US Shipping

Fast delivery from the local warehouse

Hassle-Free Return

30 Days Money Back Guarantee

Secure Payment

No Payment information will be stored

Lifetime Tech-Support

Official Professional Customer Service
KEY FEATURES

KEY FEATURES

HDMI 2.0 supports 4k (UHD) 3840 x 2160 @ 60 Hz and QHD 2560 x 1440 @ 144 Hz resolution.
HDCP 2.2 support allows connection of PCs, laptops, gaming consoles, etc.
Exceptionally compatible, thanks to its pass-through mode, this KVM works seamlessly with a variety of gaming keyboards and illuminated keyboards, surpassing other KVM switches that rely on USB emulation.
Works with 21:9 Ultrawide and 32:9 Super Ultrawide monitors (limited to 60 Hz refresh rate).
Connect and switch with non-PC devices such as gaming consoles, streaming boxes, NVRs, etc.
Compatible with most wired, wireless, mechanical, and gaming keyboards.
Switch inputs using hotkeys, mouse gestures, front push button, or remote control.
Additional stereo analog audio output allows you to choose between using the monitor's speakers or external speakers.

OTHER FEATURES

Hotkey triggers assignable to either Scroll Lock or Right-CTRL.
USB sharing works with printers, USB drives, USB headsets, and webcams for teleconferencing.
Auto-scanning with adjustable time intervals from 1 to 250 seconds.
Transmits audio over HDMI to the monitor and also provides stereo output on the KVM for external speakers.
Easy setup. Plug and play with no drivers required. Compatible with most IT department's security protocols.
Compatible with Windows, MacOS, Linux/Unix, Raspberry Pi, Xbox, PS4, Apple TV, Firestick, etc.

TECHNICAL SPECIFICATIONS

Resolution/refresh rates: 4K@60 Hz, QHD@144 Hz, FHD@144 Hz.
HDR 10 - HDCP 2.2 - Dolby Vision - 4:4:4 chroma sampling.
EDID emulation to maintain resolutions and icons.
Zero latency keyboard and mouse switching.
IR remote control (battery not included). Requires AAA*2 batteries.
Before You Buy

PACKING LIST

INCLUDES 4 X 1.5M HDMI/USB COMBO CABLES FOR PC-TO-KVM CONNECTION.

1 * 4x1 HDMI KVM Switch
1 * DC 5V Power Adapter
4 * KVM (HDMI+USB) Cables
1 * IR Remote Control
1 * User Manual

SHIPPING

We provide Free Express (UPS/USPS/DHL ) for US shipping orders.

1 YEAR WARRANTY, EXTENDED TO 3 YEARS

TESmart KVM switch comes with a 1-year warranty from the date of purchase. We offer a registration extension warranty program, register to extend the warranty to 3 years.
The warranty covers any defects in materials or workmanship under normal use. We reserve the right to replace any defective product under warranty (No Repairs, Only Exchanges).
Support

FAQs

Includes 4 x 1.5m hdmi/usb combo cables for pc-to-kvm connection.
Audio is transmitted via HDMI connection. An HDMI monitor is required for audio.
Hotkeys are triggered via a keyboard plugged into the dedicated mouse or keyboard ports.
Emulation programming is locked and cannot be removed from mouse & keyboard ports.
Dedicated mouse & keyboard ports should not be used for other types of USB devices.
Use a powered USB hub to expand the number of USB 2.0 ports.
If the wireless mouse/keyboard is "jumpy", use a USB extender to reduce the distance from the receiver.
Please install 2 AAA batteries before using the remote control (battery not included).

COMPATIBILITY INFORMATION

Dedicated mouse & keyboard ports have emulation programming. Second-generation chipsets have "Passthrough Mode" to send special characters such as multimedia keys (play, pause, volume up/down, etc), which greatly improves keyboard compatibility.
Keyboard software such as Logitech Options, DAS Q, Corsair iCUE, etc conflicts with the emulation programming and limits the ability to use dedicated macro keys. We recommend using the KVM's USB 2.0 port as a workaround if this software is desired. The USB 2.0 port does not have emulation programming and therefore the KVM will not recognize hotkey switching commands. Please use a powered USB hub to expand USB connectivity, if needed.

MORE INFO

User Manual
More FAQs
Help Center
Renovate your hybrid life
Streamline your productivity with quick switching, stable performance, and wide device compatibility. Experience the convenience and efficiency of KVM Switch at a new level.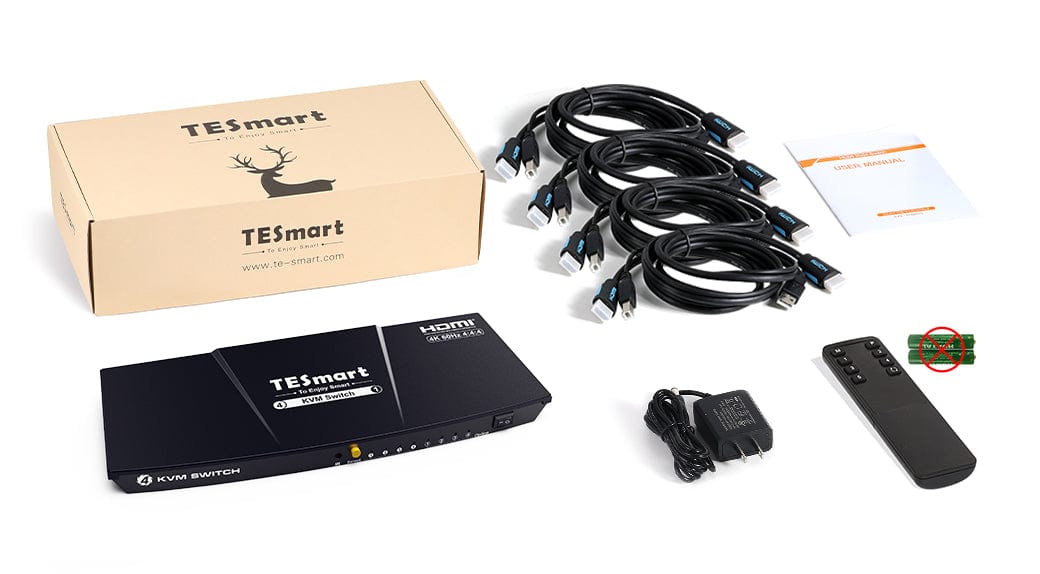 What's in the box?
INCLUDES 4 X 1.5M HDMI/USB COMBO CABLES FOR PC-TO-KVM CONNECTION.
1 * 4x1 HDMI KVM Switch
1 * DC 5V Power Adapter
4 * KVM (HDMI+USB) Cables
1 * IR Remote Control
1 * User Manual
Works well!
I have tried several KVM switches, and this is the first one that I have found to work well with my Logitech MX mouse and keyboard. I am very pleased with this purchase. Great value.
Great KVM
I have several systems and a nice 48" monitor to use. The remote works great and it holds the screen of other systems while utilizing others. I have a wireless keyboard and mouse and great transitions.