In this fast-paced digital age, electronic gaming has transcended the confines of a single platform. Personal computers, gaming consoles, and laptops have become diverse choices for gaming enthusiasts to embark on their gaming adventures. Whether it's the unique joy of playing PC games in the comfort of your room, the convenience of indulging in console gaming on your couch, or the ability to fire up your laptop anytime, anywhere, gaming experiences have never been so versatile. However, the multi-platform gaming experience presents users with new challenges: how to seamlessly switch between various devices and integrate different peripherals. In this article, we introduce an intelligent solution - the KVM Switch, making multi-device gaming easy and convenient.
The Diversity of Gaming Platforms
Different gaming platforms offer fascinating and varied features. When building a versatile gaming setup for your personal computer, PS5, Xbox, and laptop, you'll discover that each platform exudes its own unique charm. Personal computers are among the most popular gaming platforms, celebrated for their exceptional customizability and powerful performance. Consoles, on the other hand, are renowned for their exclusive game titles and the social experience of multiplayer gaming. Laptops have evolved to offer a relaxed gaming choice in today's busy lives, enabling gaming anytime, anywhere.
Leveraging PC Freedom and Innovation
Personal computers, as one of the most beloved gaming platforms, are favored for their incredible customizability and impressive performance. PC gamers can upgrade hardware and optimize game performance according to their needs, creating a unique gaming experience. Furthermore, a vast game library and various social platforms enable players to interact and connect with other gamers with ease.
Console's Exclusive Resources and Social Experience
Console platforms are famous for their exclusive game resources and the social experience of multiplayer gaming. For example, PS5 and Xbox have launched many highly anticipated exclusive games, providing players with unique gaming experiences. Additionally, multiplayer games on consoles offer more opportunities for players to interact, cooperate, and compete with friends, enhancing the social experience.
Laptops: Entertainment Anytime, Anywhere
With improvements in laptop performance, laptops have become another important gaming platform. The portability of laptops allows gamers to enjoy gaming leisurely anytime, anywhere, breaking free from the constraints of a fixed location. Whether it's at a café, on a train, or on the living room couch, gaming can happen whenever the mood strikes. This versatility has introduced a precious and relaxing gaming option into our modern, hectic lives.
Challenges and Solutions in Building a Versatile Gaming Setup
However, the multi-device gaming experience also brings about a series of challenges. Frequent switching between personal computers, gaming consoles, and laptops, along with connecting different peripherals, can make gaming experiences cumbersome. Furthermore, owning multiple sets of gaming peripherals not only increases economic burdens but also occupies valuable desktop space.
The Intelligent Solution: KVM Switch
To address these challenges, TESmart's KVM Switch comes to the rescue. KVM, an acronym for Keyboard, Video, and Mouse, is an intelligent device that allows users to connect multiple devices to the same monitor and peripherals. Through the KVM Switch, users can effortlessly switch between multiple devices with the press of a button or a hotkey combination, achieving a seamless gaming experience. This not only solves the connectivity issue but also saves on peripheral costs, creating a cleaner gaming space.
KVM Switch Unites Personal Computers and Laptops
In practical scenarios, gamers make full use of the characteristics of these platforms and devices. For instance, a busy professional might need to focus on work tasks during the day and unwind with gaming in the evening. In such a situation, they can use TESmart's KVM Switch to connect their personal computer and gaming console to the same monitor, effortlessly switching between work and leisure. During work hours, they can efficiently handle tasks, and during leisure time, with a simple press of a button, they can swiftly transition into gaming mode and enjoy their favorite games.
Making the Most of the PS5's Features
Imagine a gaming enthusiast looking forward to a high-quality gaming experience over the weekend. During the day, they use their personal computer for work and study, but in the evening, their focus shifts to their PS5. With TESmart's KVM Switch, they can effortlessly connect their personal computer and PS5 to the same monitor, without the need for frequent display and peripheral changes. During gaming sessions, they can fully enjoy the stunning visuals and unique gameplay offered by the PS5. When it's time to handle work tasks, a simple button press allows them to switch back to personal computer mode, efficiently completing their tasks. This convenient switching enables them to make the most of the PS5's innovative experience while maintaining a balance between work and play.
Leveraging Xbox's Diversity and Cross-Play
In a household with multiple gamers, some enjoy strategy games on the personal computer, some are passionate about adventure games on the PS5, and others love multiplayer competitive games on the Xbox. Through TESmart's KVM Switch, they can connect their personal computer, PS5, and Xbox to the same monitor, easily achieving multi-device switching. This allows each individual to enjoy their favorite games on the same monitor, making the most of the unique features of different platforms. Additionally, they can use Xbox's cross-play feature to game with friends across platforms, enhancing the social fun of gaming.
Recommended TESmart KVM Switches
For Dual-display Device Scenarios: HKS0202A2U - The all-new upgraded KVM Switch for the ultimate gaming experience! It supports dual 4K60Hz displays and manages two computers and two displays with just one keyboard and mouse! With multiple switching methods like hotkeys, front-panel buttons, and a remote control, it offers smooth and convenient operation for you to enjoy gaming fully! What's more, it's widely compatible with various keyboards, whether wired, wireless, mechanical, or gaming keyboards - they all work seamlessly with it! With expansion and mix modes, it meets your needs for different computer displays, making every frame of your gameplay exceptional!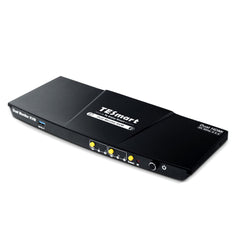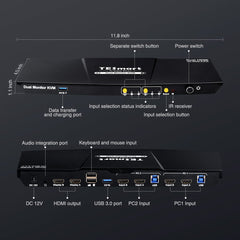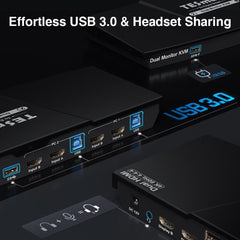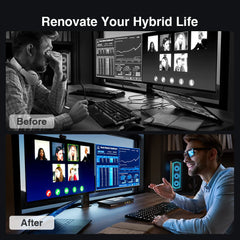 For Three-display Device Scenarios: HKS0403A1U - A gamer's top choice, an essential tool for professional tech enthusiasts! This all-new upgraded KVM Switch not only features multiple USB 3.0 ports (including USB-C and charging functions), LAN ports, and headphone jacks but also supports sharing up to four computers and three displays, offering you a comprehensive gaming experience! Want high-resolution output (4K60Hz)? Of course, it's got you covered! It also boasts extensive compatibility, supporting 3D, HDR, HDCP, Dolby Vision, and more, ensuring every frame looks stunning! In addition, a one-key lock KVM function protects your privacy, letting you game with peace of mind. In summary, this powerful, high-performance KVM Switch is the ideal choice for gaming scenarios!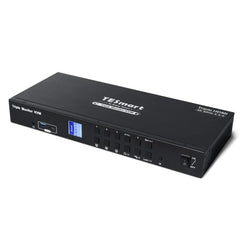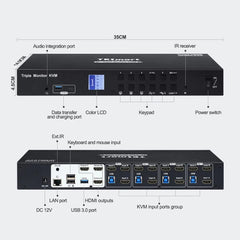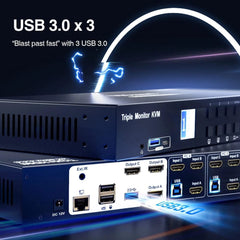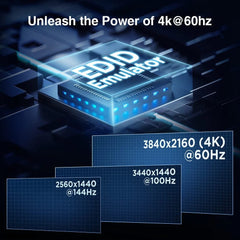 Conclusion
In the world of gaming, the multitude of platforms and experiences presents us with delightful choices. However, TESmart's dual-screen and triple-screen KVM Switches provide a convenient solution, making switching between personal computers, gaming consoles, and laptops simple and enjoyable. It not only makes switching between work and play effortless but also creates a tidier desktop environment. Whether you're chasing the joy of gaming or efficiently handling work tasks, the KVM Switch will be your reliable companion. In the diverse world of gaming experiences, let the KVM Switch lead you into the pleasures of convenience and intelligence.