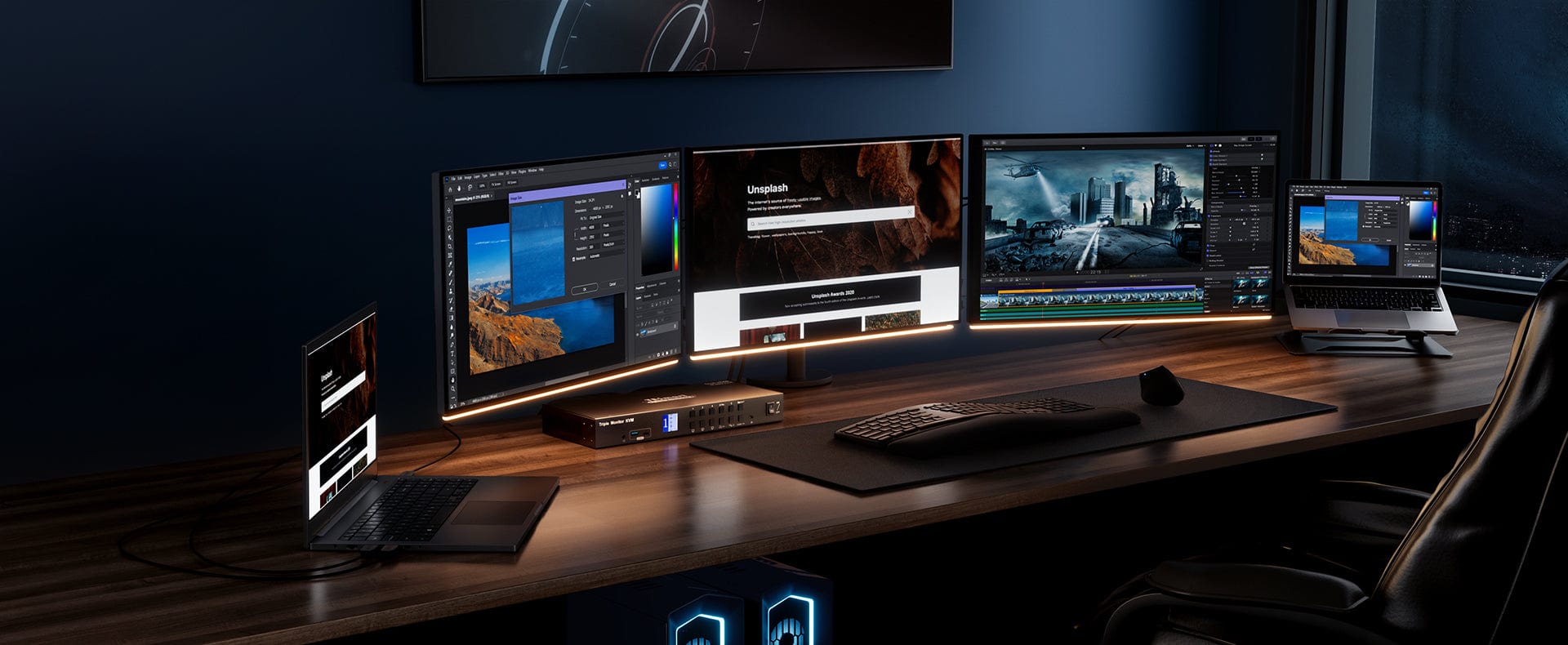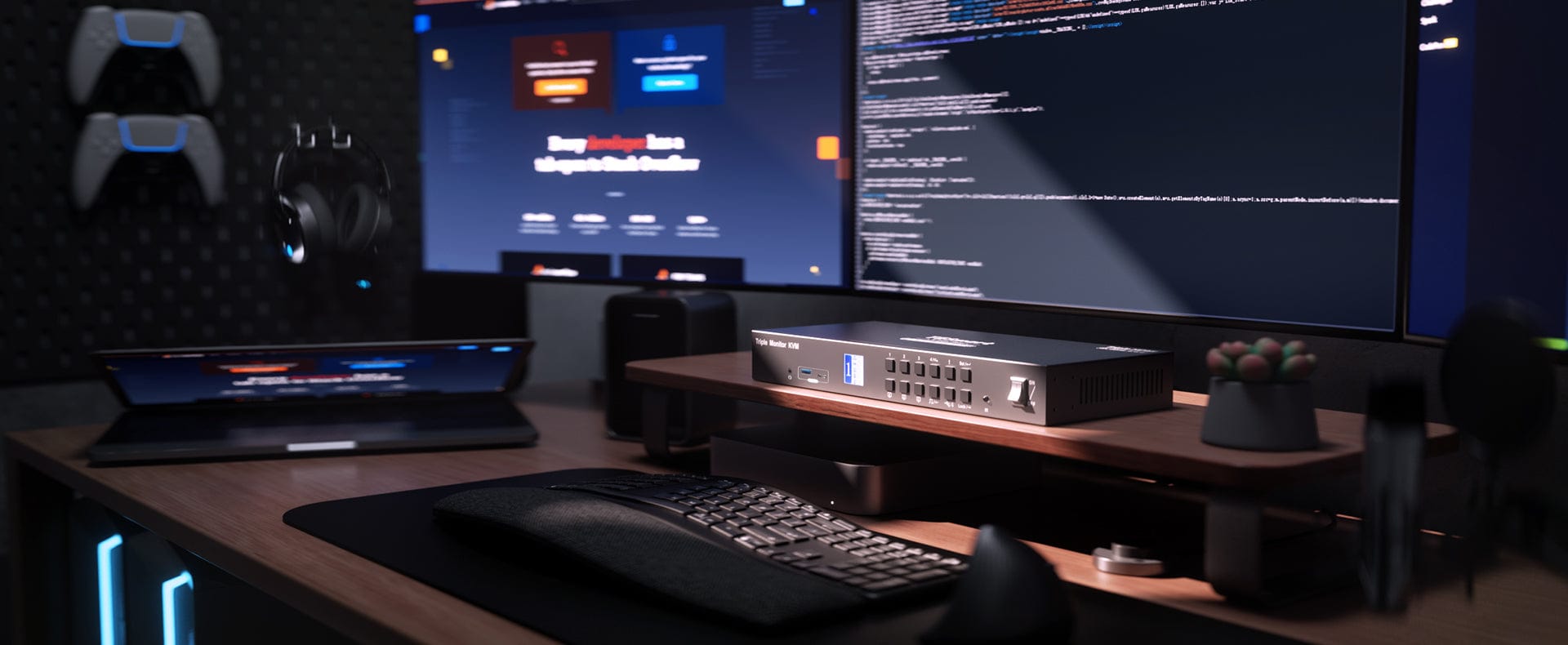 HKS0403A1U
Boost workplace efficiency effortlessly
Triple Monitor KVM Switch, the multitasking pro's choice!
HKS0403A1U
Master your home office
One keyboard, one mouse, seamless control!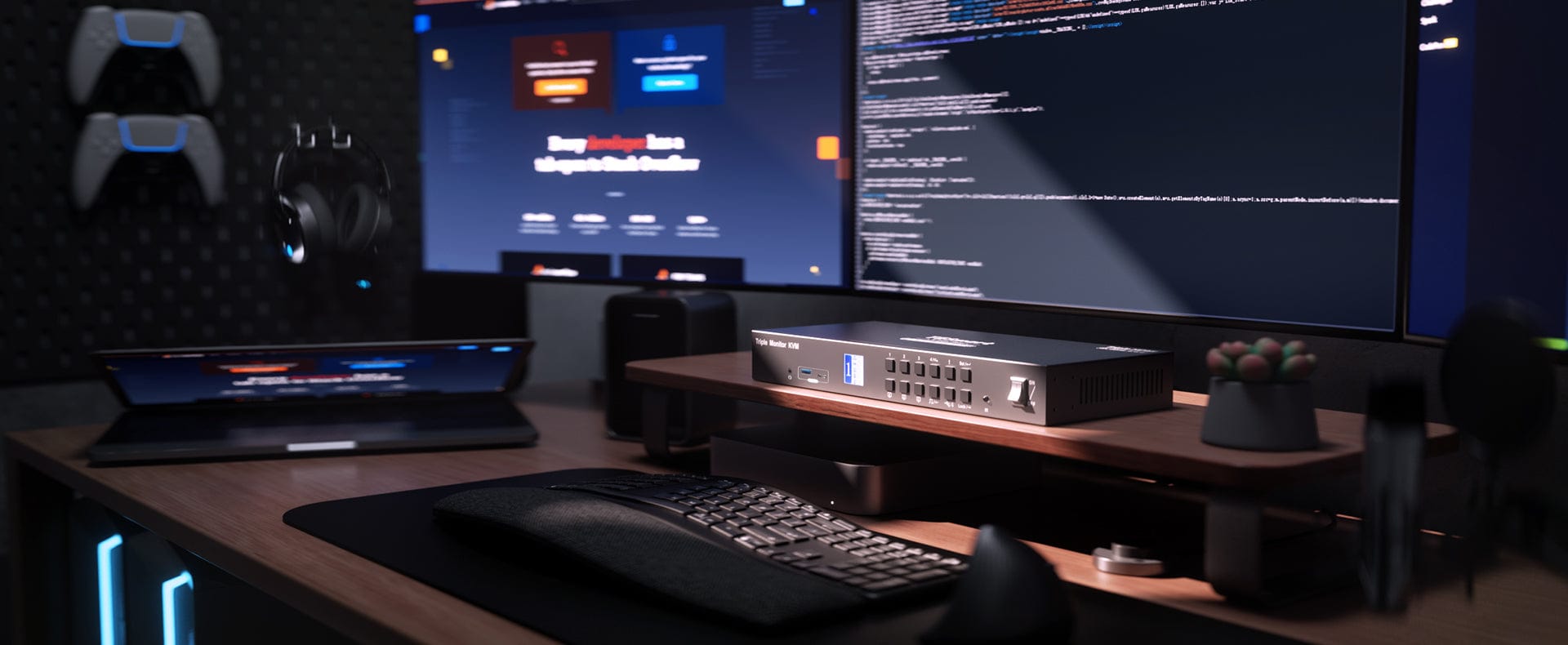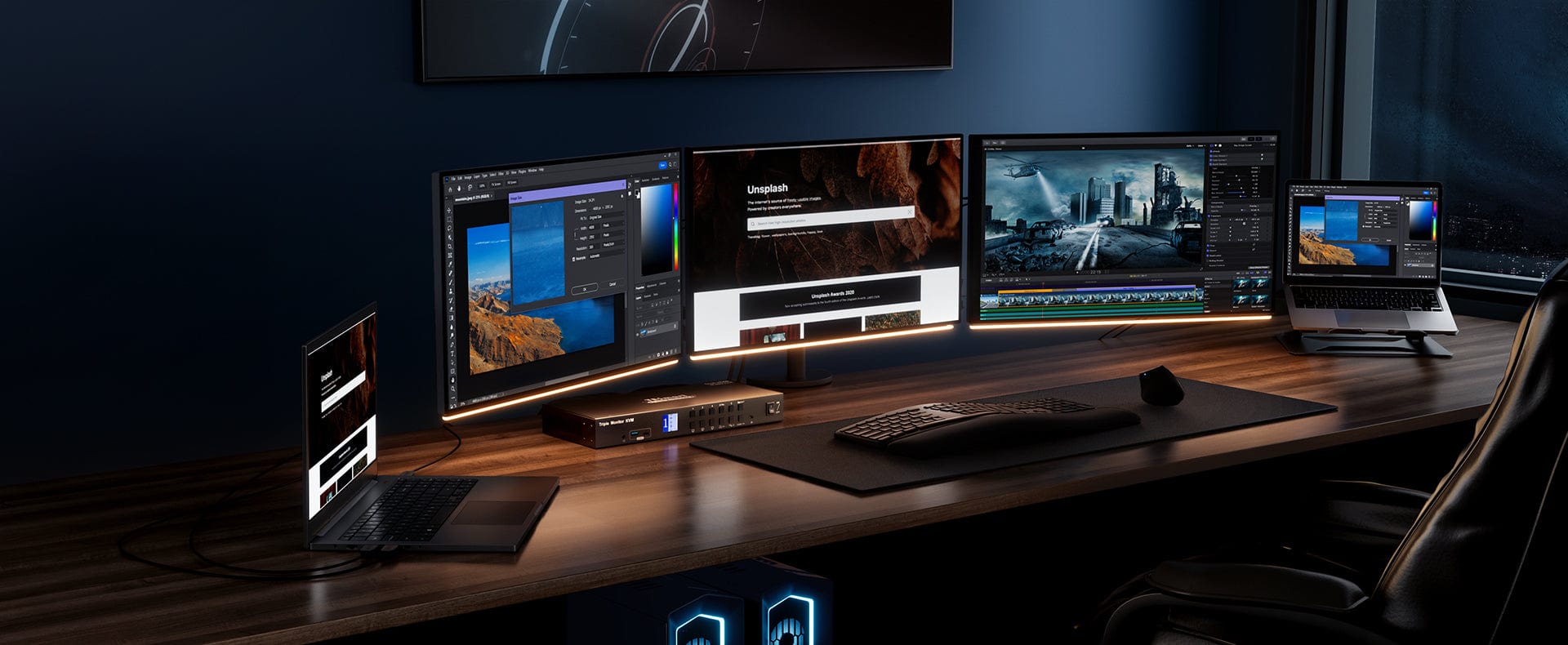 HKS0403A1U-USBK
4 Port Triple Monitor KVM Switch HDMI 4K60Hz with USB 3.0 Hub, Headset, Audio&Microphone
Regular price

Sale price

$599.99
---
Latest upgrade:
3 USB 3.0 (including 1 USB C), 2 of which are able to charge.
Newly added a LAN port for stable network connectivity. Ensure all 4 computers are connected to the network via RJ45 with a speed up to 100 Mbps.
Newly added an integrated microphone and L/R audio output.
About this item:
The KVM switch comes with complete PC cables. 4* HDMI/USB + 8* HDMI cables (for the 2nd and 3rd monitor) to the computers are included.

Share up to 4 desktops or laptops with one set of keyboards, mice, and triple monitors.

3 advanced switching modes including keyboard hotkeys, IR Remote, and front panel buttons. Automatic scans with adjustable intervals for monitoring and testing.

Triple monitor outputs support high resolution up to 3840x2160 (4K) @60hz, 3440x1440@100hz, and 2560x1440@144hz for work, video, and gaming purposes. Support 3D, HDR, HDCP, and Dolby Vision.

EDID emulators

in each input port ensure PCs always have the correct display information.

One-touch locking KVM to protect private information, with audio output pause and LCD screen brightness reduction.

LCD visual display for easy setup, equipped with 3 lockable USB 3.0 channels and 1 integrated microphone and L/R audio output.
Share
Free US Shipping

Fast delivery from the local warehouse

Hassle-Free Return

30 Days Money Back Guarantee

Secure Payment

No Payment information will be stored

Lifetime Tech-Support

Official Professional Customer Service
KEY FEATURES

KEY FEATURES

Efficiently manage 4 PCs with a set of keyboard, mouse, and triple 4K60Hz displays.
3 USB 3.0 (including 1 USB C), 2 of which are able to charge. USB 3.0 sharing for printers, jump drives, USB headsets, and webcams for teleconferencing.
Newly added an integrated microphone and L/R audio output.
Newly added a LAN port for stable network connectivity. Ensure all 4 computers are connected to the network via RJ45 with a speed up to 100 Mbps.
2 Operating Modes: Mode 1 for extended desktop and Mode 2 for split desktop (each computer displays on 1 monitor simultaneously).
K&M pass-through for compatibility with various keyboard types: wired, wireless, mechanical, and gaming.
Easy plug & play setup with no drivers required.
Compatible with Unix/Windows/Debian/Ubuntu/Fedora/MacOS X/Raspbian/Ubuntu for Raspberry Pi and other Linux-based systems ideal for home, office, or education scenarios.

OTHER FEATURES

3 ways to switch inputs: keyboard hotkeys, front push buttons, or remote control.
Assignable hotkey triggers from Scroll Lock to Right-CTRL.
Support function settings on the front panel which can switch ports, turn on/off auto scan, change hotkey trigger, lock audio and USB 3.0, and other functions.
Support locking L/R audio and USB 3.0 devices to a fixed PC.
One-touch locking KVM to protect private information, with audio output pause and LCD screen brightness reduction.
Auto-scanning with the adjustable time interval from 1 to 250 seconds.

TECHNICAL SPECIFICATIONS

HDMI 2.0 supports 3840x2160(4K)@60hz, 3440x1440@100Hz, 2560x1440@144Hz, QHD@144hz, FHD@144hz.
HDCP 2.2 compliant
HDR 10 and Dolby Vision.
EDID emulation to prevent resolution and icon rearrangement.
No delay, zero latency keyboard, and mouse switching.
IR remote control (battery not included). Requires 2 AAA batteries.
Before You Buy

PACKING LIST

EACH PC MUST MAKE 3 VIDEO CONNECTIONS TO KVM FOR TRIPLE MONITORS

1 * 4x3 Triple Monitor HDMI KVM Switch
1 * DC 12V Power Adapter
4 * KVM (HDMI+USB) Cables
8 * HDMI Cables
1 * IR Extension Cable
1 * IR Remote Control
2 * Rack-ears
1 * User Manual

SHIPPING

We provide Free Express (UPS/USPS/DHL ) for US shipping orders.

1 YEAR WARRANTY, EXTENDED TO 3 YEARS

TESmart KVM switch comes with a 1-year warranty from the date of purchase. We offer a registration extension warranty program, register to extend the warranty to 3 years.
The warranty covers any defects in materials or workmanship under normal use. We reserve the right to replace any defective product under warranty (No Repairs, Only Exchanges).
Support

FAQ

The switch must receive video signals on three HDMI inputs per PC for triple monitor output.
Audio is transtted via HDMI connection. HDMI or DisplayPort monitor is required for audio.
Hotkeys are triggered via a keyboard plugged into the dedicated mouse or keyboard ports.
Emulation programming is locked and cannot be removed from mouse & keyboard ports.
Dedicated mouse & keyboard ports should not be used for other types of USB devices.
Use a powered USB hub to expand the number of USB 3.0 ports. 3 USB 3.0 (including 1 USB C), 2 of which are able to charge.
If the wireless mouse/keyboard is "jumpy", use a USB extender to reduce the distance from the receiver.
Please install 2 AAA batteries before using the remote control (battery not included).

COMPATIBILITY INFORMATION

Dedicated mouse & keyboard ports have emulation programming. Second-generation chipsets have "Passthrough Mode" to send special characters such as multimedia keys (play, pause, volume up/down, etc), which greatly improves keyboard compatibility.
Keyboard software such as Logitech Options, DAS Q, Corsair iCUE, etc conflicts with the emulation programming and limits the ability to use dedicated macro keys. We recommend using the KVM's USB 3.0 port as a workaround if this software is desired. The USB 3.0 port does not have emulation programming and therefore the KVM will not recognize hotkey switching commands. Please use a powered USB hub to expand USB connectivity, if needed.

MORE INFO
Tired of clutter? Try TESmart KVM switch
Renovate your hybrid life
Quick switching, stable performance, and wide device compatibility unleash the power of efficiency. Experience productivity and convenience at a new level.
One-Touch Switching

Unleash the Power of 4k@60hz

USB 3.0 - Speed Up Your World

Mic In, World Out - Unleash Your Voice
Choose your ideal switching method: Keyboard Hotkeys, IR Remote, or Front Panel Buttons.
This Triple Monitor HDMI KVM Switch with built-in EDID emulator offers ultimate compatibility: 4K, ultra-wide, and high-refresh-rate displays.
Elevate your visual experience today!
3840x2160 (4K) @60Hz;
3440x1440 @100Hz;
2560x1440 @144Hz.
HKS0403A1U with USB 3.0 eliminates lag - swiftly transfer files, connect devices, and multitask effortlessly.
Experience the freedom of seamless audio with HKS0403A1U. Connect your headset to the versatile 3.5mm jack for effortless audio input and output.
The unique audio lock feature keeps your conversations and meetings uninterrupted while switching screens. Stay connected, stay in control.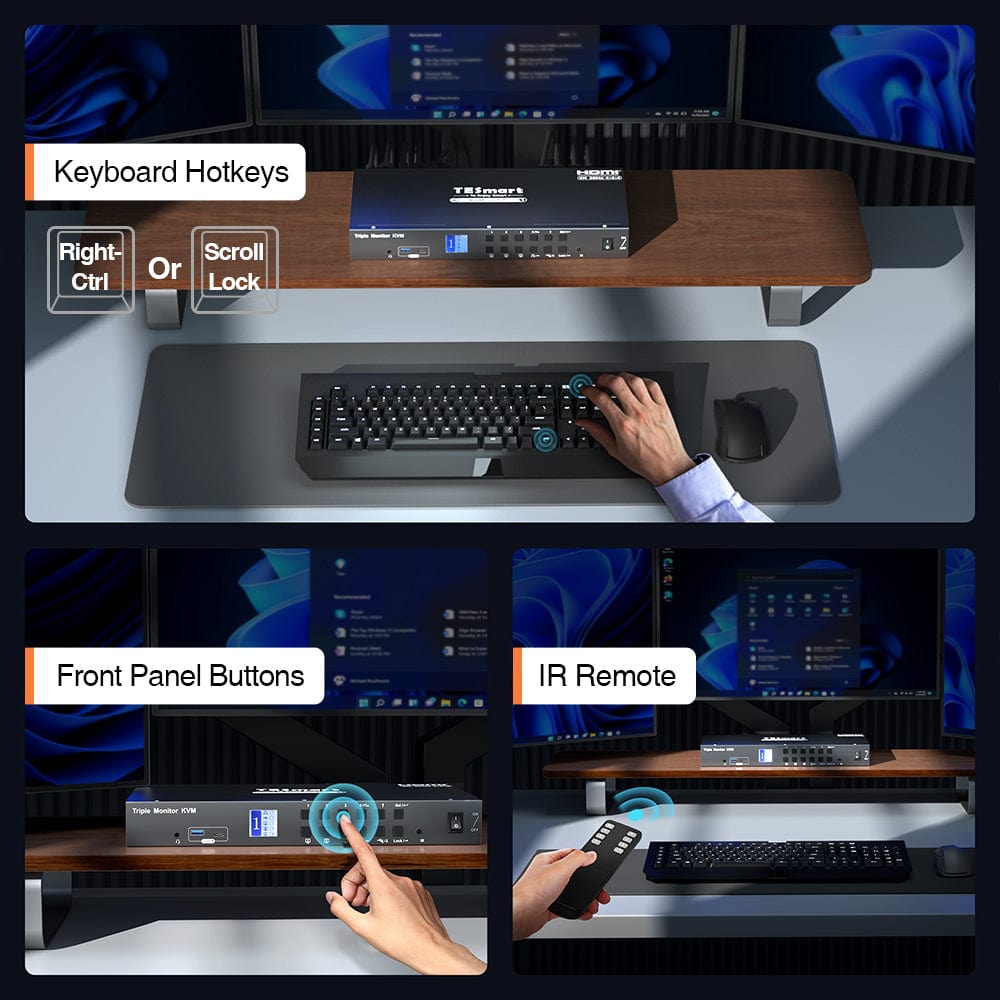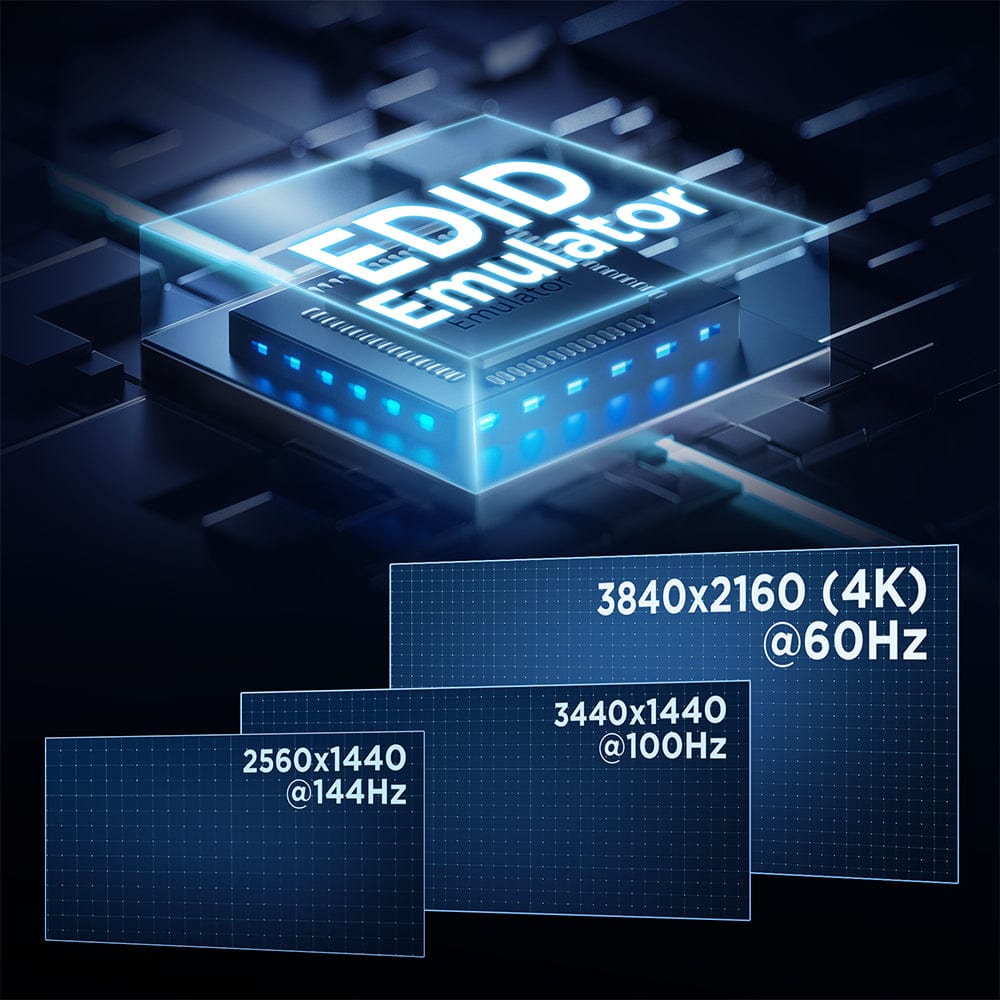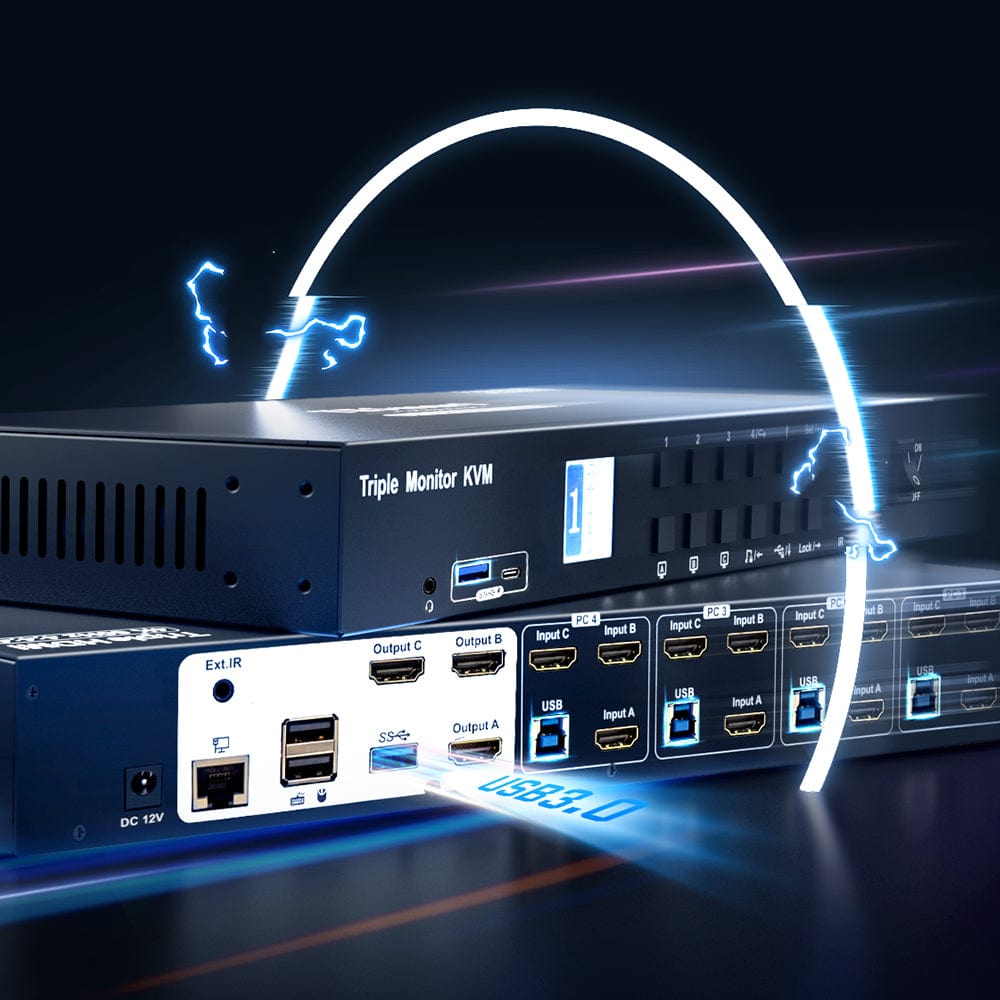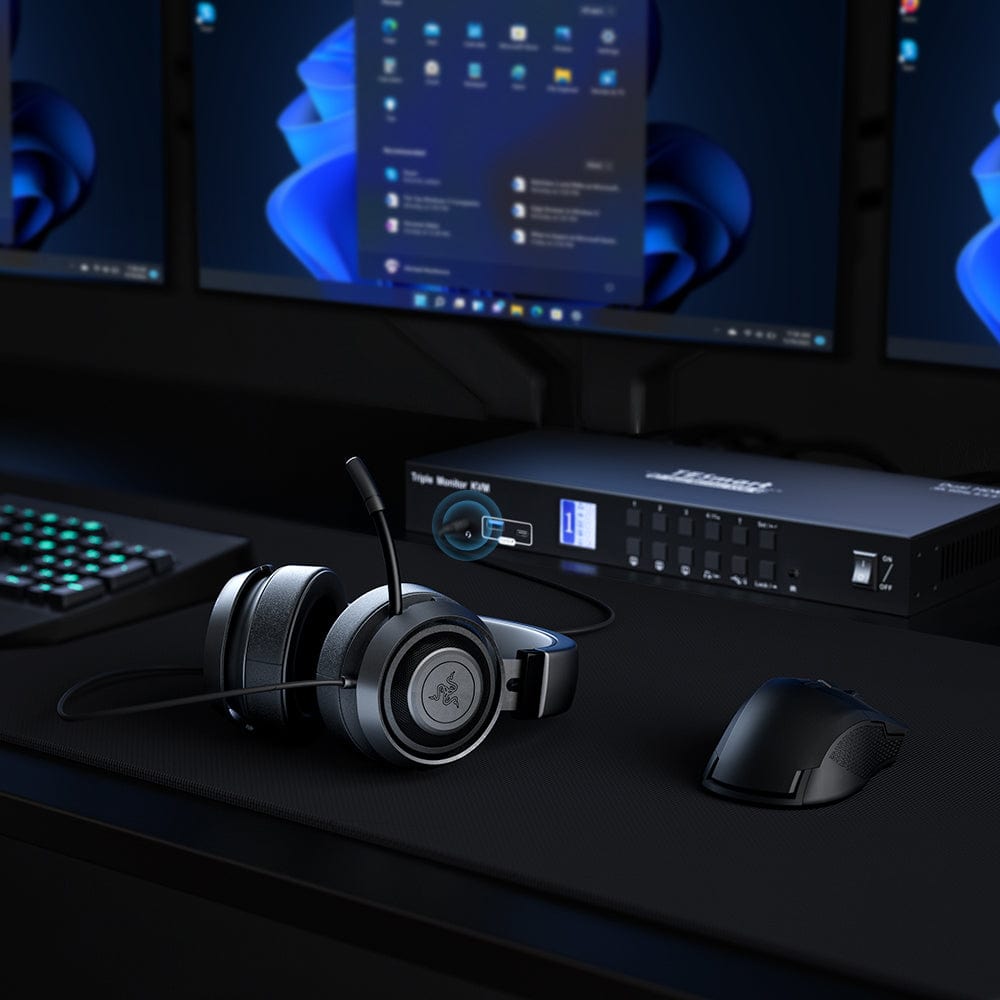 Network Smarter - One Cable, Four Computers

LCD Screen - Visualize Your Control

Lock and Go - Privacy Made Simple

Lock-in Connectivity - No Interruptions
HKS0403A1U's new LAN port revolutionizes your connectivity - one cable links four computers to the network, simplifying your setup.
The LCD display delivers a clear, intuitive interface for effortless navigation and enhanced usability.
The one-button privacy lock secures all your screens in a snap, keeping your personal information safe when you're not at your desk.
The audio/USB lock guarantees stable connections while switching screens, maintaining your calls and data transfers without a hitch.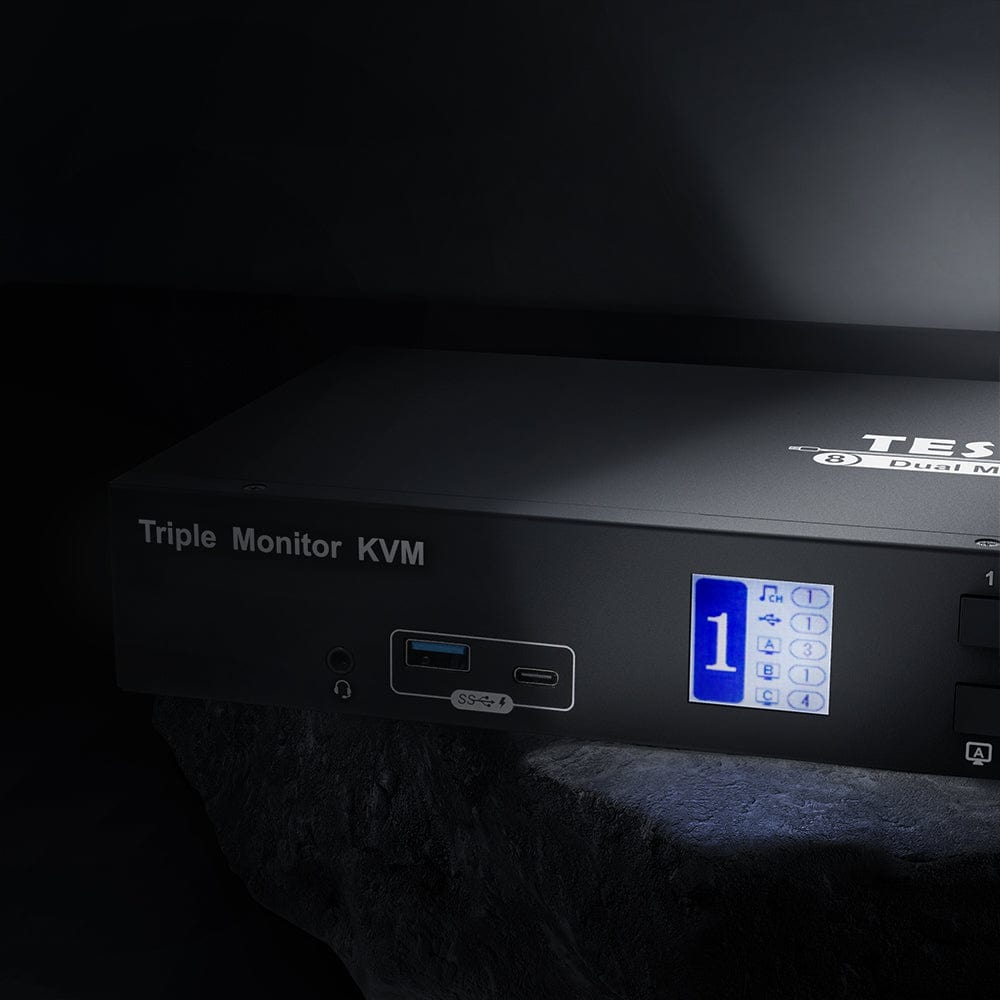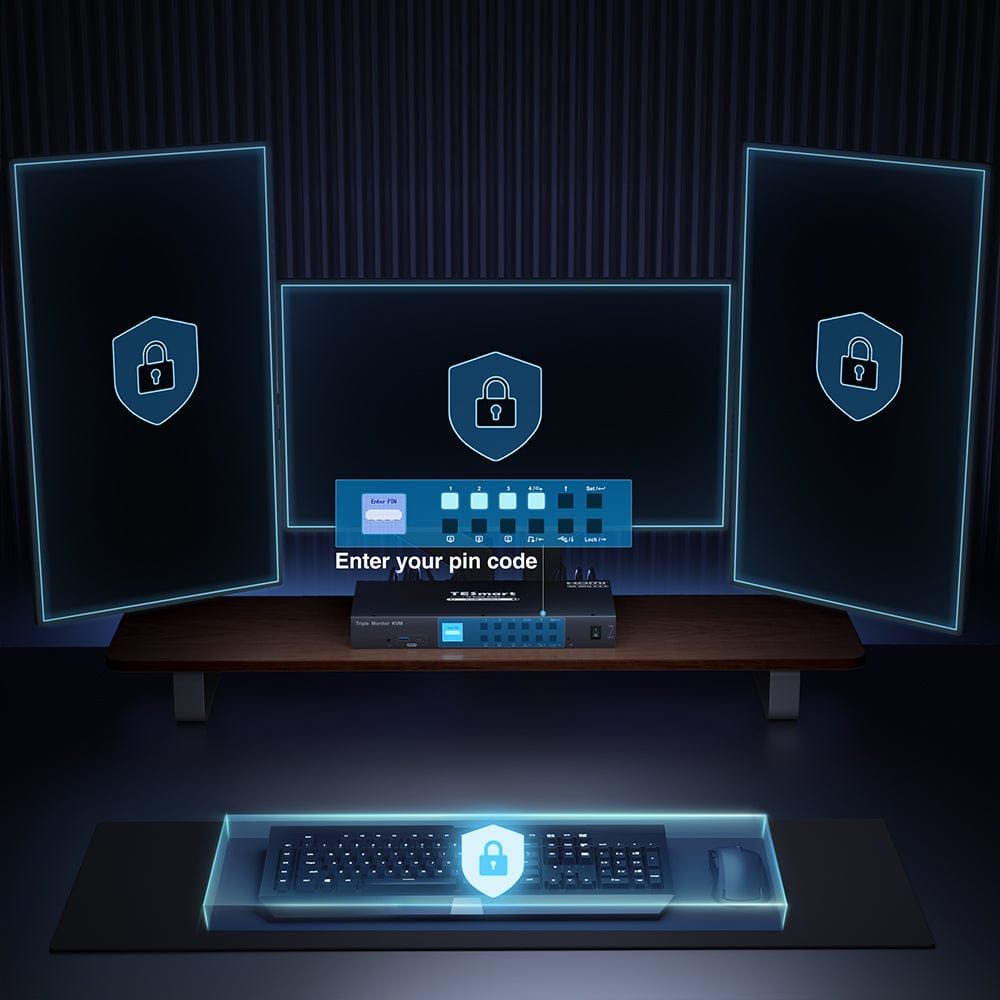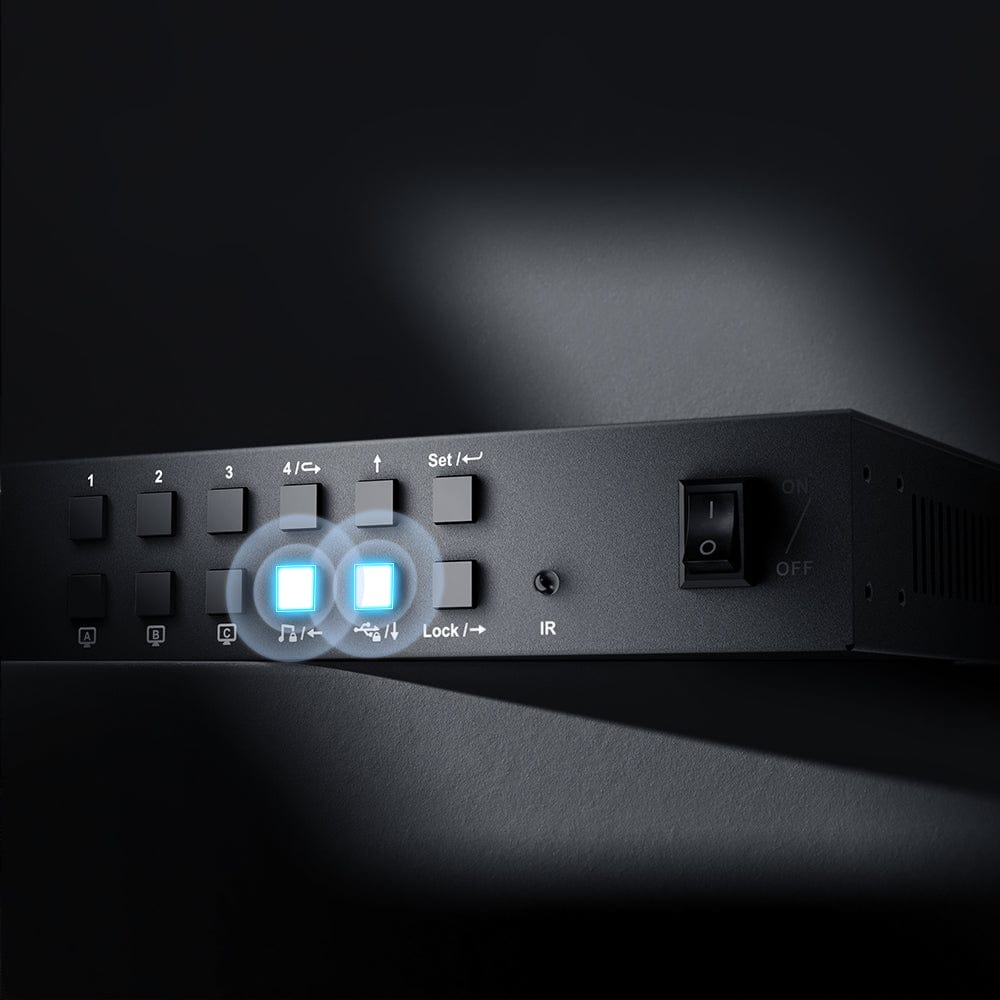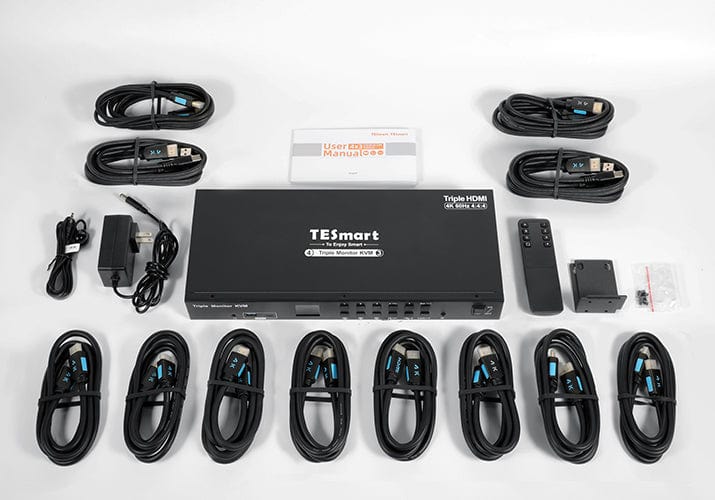 What's in the box?
EACH PC MUST MAKE 3 VIDEO CONNECTIONS TO KVM FOR TRIPLE MONITORS
1 * 4x3 Triple Monitor HDMI KVM Switch
1 * DC 12V Power Adapter
4 * KVM (HDMI+USB) Cables
8 * HDMI Cables
1 * IR Extension Cable
1 * IR Remote Control
2 * Rack-ears
1 * User Manual
Reviews from Youtubers
4 Computers & 3 Displays 1 Mouse and 1 Keyboard | How to Use a SUPER KVM | TESmart
Although my setup is not common, the TESmart KVM works awesomely in my ultra configurations, significantly boosting my productivity.
- Roberto Jorge Tech
VIEW MORE
Overall solid, a few quirks to be aware of
Overall, this KVM is spot on in providing what is ultimately the only thing that matters: the ability to switch 3 monitors between up to 4 computers. The setup is easy, no drivers need loading, and the switching is reasonably fast. The EDID emulation (which is one of the main reasons I went with this model) works as expected and I've not had a hiccup with application or workspace resizing when switching between multiple Linux (Fedora specifically) systems.
Build quality seems top notch as well; unit feels solid and doesn't make me worry about accidentally knocking it around. Charging ports on the front are a nice touch. I haven't tested the audio passthru as I only use a headset which connects via a USB dongle that I connect to a hub attached to the USB3 port on the back (and this works as expected when switching between ports).
There are a few things however holding it back from being 5 stars:
- I use a wireless keyboard (specifically, Logitech G915 - not sure if that matters), and the dedicated keyboard/mouse ports seem to have issues with that. Occasionally a key press won't be passed to the currently active computer. This is completely isolated to the USB 2.0 K/M ports, as using the USB3 port (or a hub attached to it) resolves this issue. However, that means that the keystrokes to switch to a different computer don't work.
- I was also not able to use the keystroke controls anyways when the receiver dongle for my keyboard was in the K/M port. I'm not sure why, but I also have the unit directly in front of me so I'm not bothered by it.
- The integrated switch is only 100Mbps, which makes it functionally useless for today's networks. This isn't a huge deal, but it is notable. Either put in a gigabit controller, or drop this feature entirely (or add another USB3 port in its place even).
- The power cable is INCREDIBLY short. If there isn't an outlet within a couple feet of the unit, you won't be able to do very much cable management with the power cable.
- The included HDMI cables are also fairly short. This may not be an issue if you have all the computers racked or right next to each other, but even then I think for 4 computers side-by-side these would be limiting due to their length.
All that said, I'm happy with the purchase, especially since this is one of the VERY few KVMs on the market that are triple monitor with EDID emulation. I just wish there was a triple DisplayPort w/ EDID variant.
So much more than a KVM
The TESmart 3 HDMI Monitor, 4 Computer KVM (with EDID) comes well packed in an unassuming brown box. But in that box is an awesomely powerful KVM display switch combo capable of mixing your machines, and screens, as needed. All while bouncing your mouse and keyboard around to different devices.
Literally a huge quality of life improvement for several members of the team. We've been running dual and triple monitor setups from back when you had to buy specialized cards and cables. These days, Im rocking a 43 with a 32 monitor on each side, displaying 2 computers and 2 laptops: Work, and play!
Until I found this switch, I used multiple KVM/HDMI switches/and odd docking station combos Whatever I could find that didnt cost thousands of dollars. And if you arent familiar with EDID emulators, do the research (or keep reading).
I had to constantly deal with my machines forgetting they had a great monitor layout and apps placed exactly where I wanted. When I switched using a normal KVM it would cause my open windows and icons to lose their place. Have you ever seen 14 windows on a 4k display all stacked into the upper left corner tiny and annoying like? Most likely your monitor got disconnected or went to sleep on you. Or you had a KVM that swapped the monitors over to the 2nd PC and the 1st thought it had no monitors, so Windows defaulted to something like a 640x480 resolution driver.
EDID (Extended Display Identification) fixes this! Its incredible.
Enter the TESmart KVM. It was like it was custom made for me. Suddenly all of my computers can be swapped to the monitors with a double scroll tap then number. The machines have no idea theyve been swapped (other than the USBs moving) and all of my apps stay where they should be. You can also use the buttons on front, a remote (included) or the RS232 port to manage the configuration on the fly. In the video attached I demonstrate the keyboard controls and then show how the front buttons and display work. If you dont mount it under your desk, it presents nicely on your desk or under your monitor if you have room.
But wait, there s more! This TESmart enables you to SELECTIVELY swap out any monitor to the other machine. You can then, with a triple click of the alt key, control that machine. At first, I was like thats an interesting gimmick But in my day to day workflow I use it all the time. It allows me to pop one monitor over to a gaming box (during lunchtime of course) or to do research or banking, etc on a personal machine rather than my work laptop.
USB devices can also be brought along. I only have my mouse/keyboard setup that way, but theres no specific limitation. The review unit we received has a USB 2.0 hub (keep reading!)
There is remote (with included IR extender) but I personally never use it. Much faster to swap by keyboard. In a machine room environment, I can see where that would be very useful.
It comes with a NICE full set of cables including USB connections. Please note this is all HDMI. There is a DP version from TESmart that doesnt have EDID.
One of the pics I show mounted under a shelf in the server room with the rack ears attached.
Potential review titles for this review were:
This IS the droid you are looking for!
EDID for the win
This KVM rocks!
Pricey but worth its weight in gold
PS: The newest version of this (Same model/page on Amazon) has USB-C, a network port to ensure connectivity and improved L/R audio. If you ordered one from Amazon as of April 2023 and it doesnt have USB-C contact the support team for options on replacing.
An incredible workhorse with fantastic support and track record. Do yourself a solid and consider upgrading to a great solution.
Consolidated a lot of KVM Switches into 1
I've had this KVM from the day it was released. The flexibility it gave me using a triple monitor setup is great for everyone.
Being a streamer, I can have my multiple screen setup and show each monitor a display from a combination of computers.
This has saved me a lot of time and effort to show what I want when I want. I will probably buy another in the future.
Great KVM
I have been using this KVM for 4 Months now and this is one beast like non other.
Feature Like Keep USB On One Host and Display and Key board on other is the most frequent feature I used
Only one Note when I loose power and it comes back on with triple monitor setup I loose one Monitor and to get back to normal I need to disconnect all Host from KVM and add them one by one.
I am sure they will release a fix for this in upcoming firmware updates
This is a terrific product
Having multiple laptops and desktops used to be a pain to use but this device makes my life easier. Whether I want to use all three monitors for one computer or have different computers on each screen this device makes that possible. Read the instructions to learn how to use the hotkeys.
The only thing I would want done differently is to have the ability to lock the sound on the remote rather than using the physical unit to do so. Other than that, this thing is terrific.