BYOM (Bring Your Own Meeting) is an intriguing meeting room technology concept that we will delve into to explore how it enhances hybrid meeting experiences in modern work environments. As work patterns evolve, so do people's expectations for meetings, and BYOM is carefully designed to cater to this need. We will begin by introducing the basic concept of BYOD (Bring Your Own Devices), then explore how BYOM is applied in meeting room environments, and finally, discuss the differences and unique advantages between BYOD and BYOM.
Background of BYOD and BYOM
In today's modern business environment, technological innovation is redefining the way meetings are conducted. "BYOD" and "BYOM" are two highly discussed concepts designed to bring greater flexibility and efficiency to meeting rooms. "BYOD" stands for "Bring Your Own Devices," where employees can bring their personal devices into the workplace and connect them to meeting devices for a more convenient meeting experience. "BYOM" stands for "Bring Your Own Meeting" and is a way of giving meeting control to participants, allowing them to use their own devices to host and manage meetings.
Advantages of BYOD in Meetings
The advent of BYOD has introduced a fresh dynamic into meeting rooms. In traditional meetings, valuable time is often spent setting up and configuring meeting devices. BYOD, on the other hand, combines meeting room devices with employees' personal devices, eliminating the need for device connections and setup. For example, if a meeting room is equipped with TESmart's dual-screen KVM switch HKS0402A2U, participants can effortlessly connect their own devices to shared displays, keyboards, and mice, quickly sharing content and controlling the meeting. This not only reduces meeting preparation time but also enhances team collaboration efficiency.
Understanding BYOM: Personalized Meeting Experiences
The concept of BYOM elevates the meeting experience to a whole new level. It's not just about device connectivity; it focuses on personalized experiences for participants. In BYOM mode, the host can use their own device to manage meeting content and processes. This makes meetings more flexible and personalized, allowing the host to control the meeting flow, present content, and even engage in real-time interactions as needed. This approach is particularly suitable for meetings that emphasize interactivity and participation, such as creative team meetings and training seminars.
Taking TESmart's dual-screen KVM Switch HKS0402A2U as an example, the advantages of BYOD in a meeting room environment are evident. This KVM switch allows users to connect multiple computers to a shared display, keyboard, and mouse, enabling quick device switching and sharing. In a meeting environment, employees can connect their devices to the switch, easily share content, and control the meeting. This method enhances the flexibility and efficiency of team collaboration, especially in hybrid meetings where participants use different devices.
BYOD vs. BYOM: Their Respective Features
While both BYOD and BYOM involve the use of personal devices in a meeting environment, their focus areas are different. BYOD primarily concentrates on device connectivity and access, allowing participants to bring their devices into the meeting. BYOM places a greater emphasis on meeting control and personalization, enabling the host to use their own device to lead the meeting flow. These two approaches can be chosen based on the nature of the meeting, participant needs, and the focus on device connectivity and meeting control. Regardless of the choice, meeting experiences should be optimized based on real needs to improve work efficiency and collaboration effectiveness.
Recommended TESmart KVM Switches
For Three-display Device Scenarios: HKS0403A1U - This KVM switch supports up to four computers and up to three displays, providing convenient management of multiple devices. Its front panel features two power supply interfaces (one Type-C, one USB 3.0), which not only transfer USB data but also charge your smartphone and tablet, with a charging current voltage of (5V, 1.5A). The rear panel includes two dedicated keyboard and mouse ports for connecting your input devices, as well as two USB 3.0 ports for USB data transmission. It also integrates microphone and L/R audio output functions to meet various home audio and video needs. With flexible operation, it offers multiple switching methods and automatic scanning for easy switching and management. High-resolution (4K60Hz) output and broad compatibility (3D, HDR, HDCP, Dolby Vision) enable you to enjoy high-quality, convenient shared office experiences.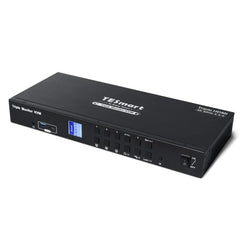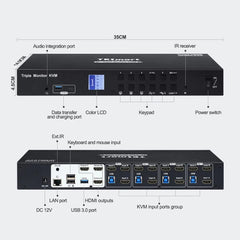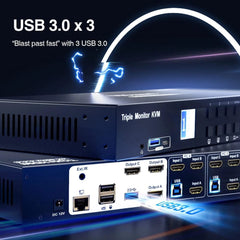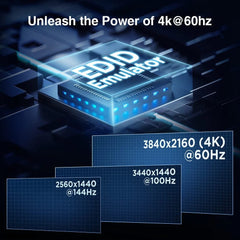 Conclusion
In the ever-evolving business environment, the transformation and innovation of meeting room technology are imperative. Whether it's BYOD or BYOM, both bring greater flexibility and personalized experiences to meetings. The choice of the right mode depends on the nature of the meeting, participant needs, and the focus on device connectivity and meeting control. Regardless of the chosen approach, meeting experiences should be optimized based on real needs to enhance work efficiency and collaboration effectiveness.