With the rapid development of information technology, office environments are constantly evolving. Traditional offices are no longer the only option as more and more people choose to work from home, engage in remote work, or adopt a mobile office setup. As a powerful tool, KVM switches bring convenience and flexibility to various forms of office environments. This article will delve into different forms of office scenarios in the present era and reveal the applications of KVM switches in these scenarios, enabling you to work worry-free.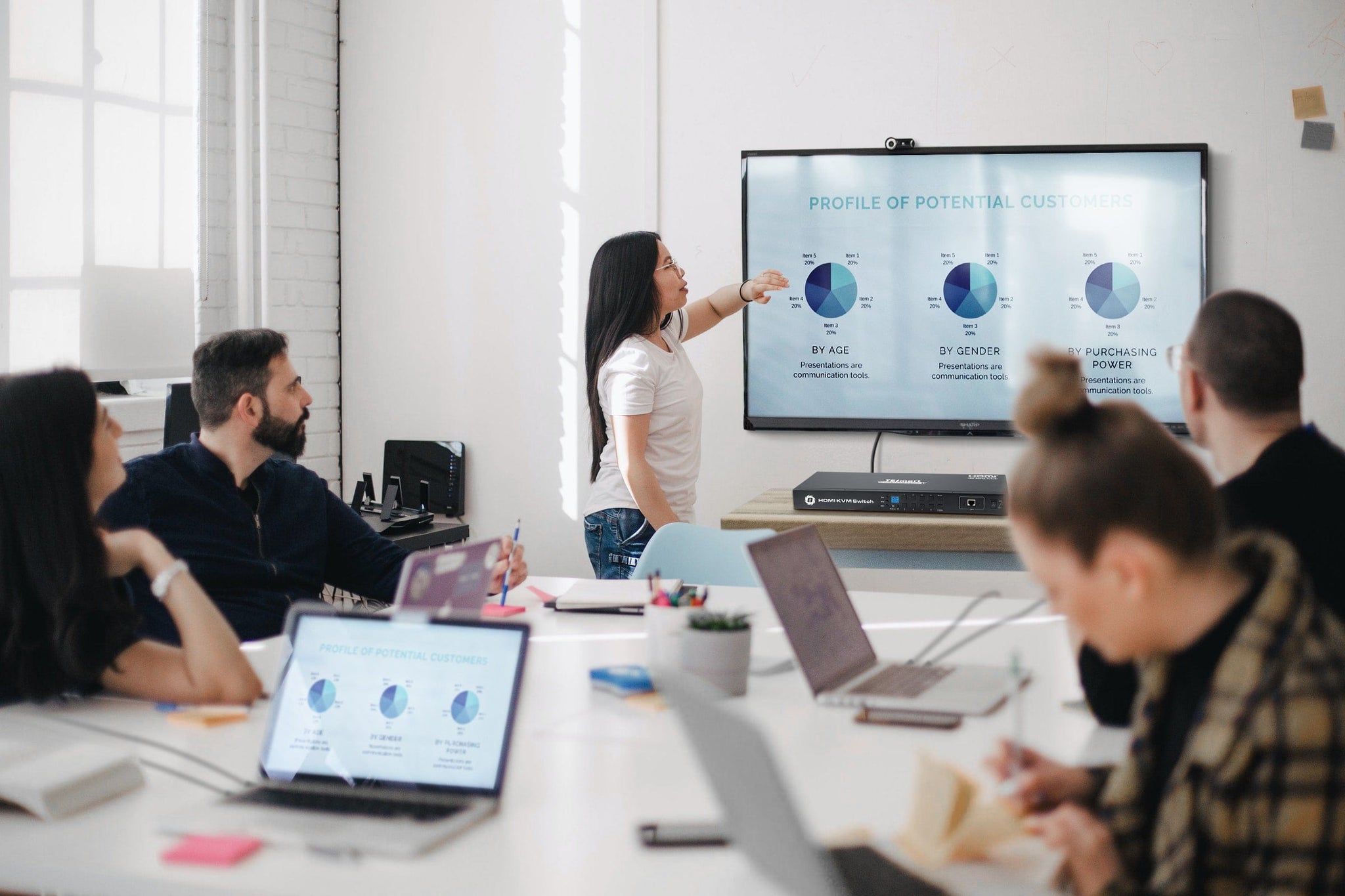 Traditional Office
Swift switching between multiple computers
In a traditional office setting, employees may need to handle multiple computers simultaneously, such as desktops, laptops, or servers. By using KVM switches, employees can quickly switch between different computers with simple operations, eliminating the need for frequent cable swapping or monitor adjustments. This fast switching capability allows employees to efficiently manage various tasks, enhancing work productivity.
Resource Sharing and Collaboration
In a traditional office, employees often need to share resources and collaborate. KVM switches provide a convenient way for employees to share peripherals like keyboards, mice, and monitors. By utilizing the switching functionality, employees can easily share information and resources through a single set of keyboard and mouse, seamlessly switching between different computers. This flexibility and convenience foster collaboration and cooperation among teams, boosting work efficiency.
Mobile Office
Unified Work Environment
Through KVM switches, users in a mobile office setup can achieve a unified work environment across different devices. Whether working on files on a laptop or attending meetings on a tablet, users can switch seamlessly between different devices by performing switch operations, all on a single monitor. This unified work environment maintains consistency in user habits and workflows, allowing users to effortlessly switch between different devices and maintain high work efficiency.
Efficient Mobile Office Experience
KVM switches provide mobile office users with an efficient working experience. By connecting multiple mobile devices to the same monitor, keyboard, and mouse, users can eliminate the cumbersome process of switching and adjusting between devices. Whether handling files, editing documents, or participating in online meetings, users can seamlessly switch between different devices through simple switching operations, maintaining a high level of productivity. This efficient mobile office experience allows users to enjoy comfortable and convenient work experiences anytime, anywhere.
Multi-Monitor Office
Efficient Multi-Screen Work
KVM switches offer an efficient multi-screen working experience. Users can assign different applications, files, or tasks to different screens, avoiding the hassle of switching and adjusting windows on a single screen. Multi-screen work provides a larger workspace, enabling users to simultaneously view and handle multiple tasks, enhancing work efficiency and multitasking capabilities.
Large-Screen Presentations and Demonstrations
KVM switches can also be used for large-screen presentations and demonstrations. By connecting multiple displays and using KVM switches for switching operations, users can easily achieve large-screen displays and impressive presentations. This is particularly useful in meeting rooms, training venues, or exhibition events, allowing users to showcase content on a larger scale and providing a better viewing experience.
TESmart KVM Switch Recommendations
For Triple-display Setups: HKS0403A1U - This upgraded KVM switch will become your reliable assistant in busy office environments. It supports sharing among up to four computers and up to three displays, allowing you to manage multiple devices simultaneously and greatly enhance work efficiency. With multiple USB 3.0 interfaces (including USB-C and charging functions), LAN ports, and headphone jacks, it meets diverse needs in your office. Additionally, the one-key lock function ensures the security of your privacy information. The easy-to-use LCD visual display screen provides clear switching operations. The key selling points of this upgraded KVM switch in office scenarios are the sharing of multiple devices and enhanced work efficiency, making it an indispensable office tool for you.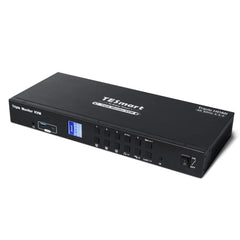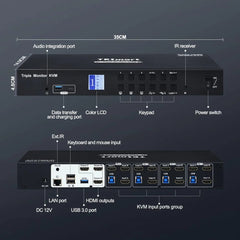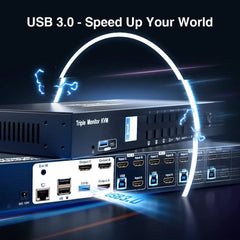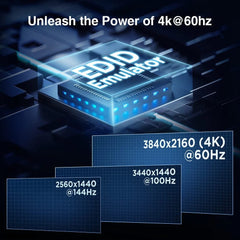 For Dual-display Setups: HKS0202A2U - This switch supports dual 4K60Hz displays, enabling effortless management of two computers and two monitors with just one keyboard and mouse. In daily work, there is no need for frequent cable swapping, resulting in a more convenient and efficient operation. Moreover, it offers expansion and mixed modes to meet the demands of different computer displays. Whether for multi-screen displays or collaborative work, this switch is a perfect fit. With complete PC connection cables and comprehensive support for Windows, Mac, and Linux systems, this upgraded version of the KVM switch ensures stable operation across different operating systems, empowering you with efficient office work. Whether working from home, in an office, or in an educational environment, this upgraded KVM switch provides an excellent work experience.