Games have become a popular form of entertainment in modern society, attracting countless gaming enthusiasts. In the pursuit of better gaming experiences and improved competitive skills, KVM switches have become an indispensable tool. This article will reveal the applications and advantages of KVM switches in gaming scenarios, helping you further explore the world of gaming and enjoy unlimited possibilities!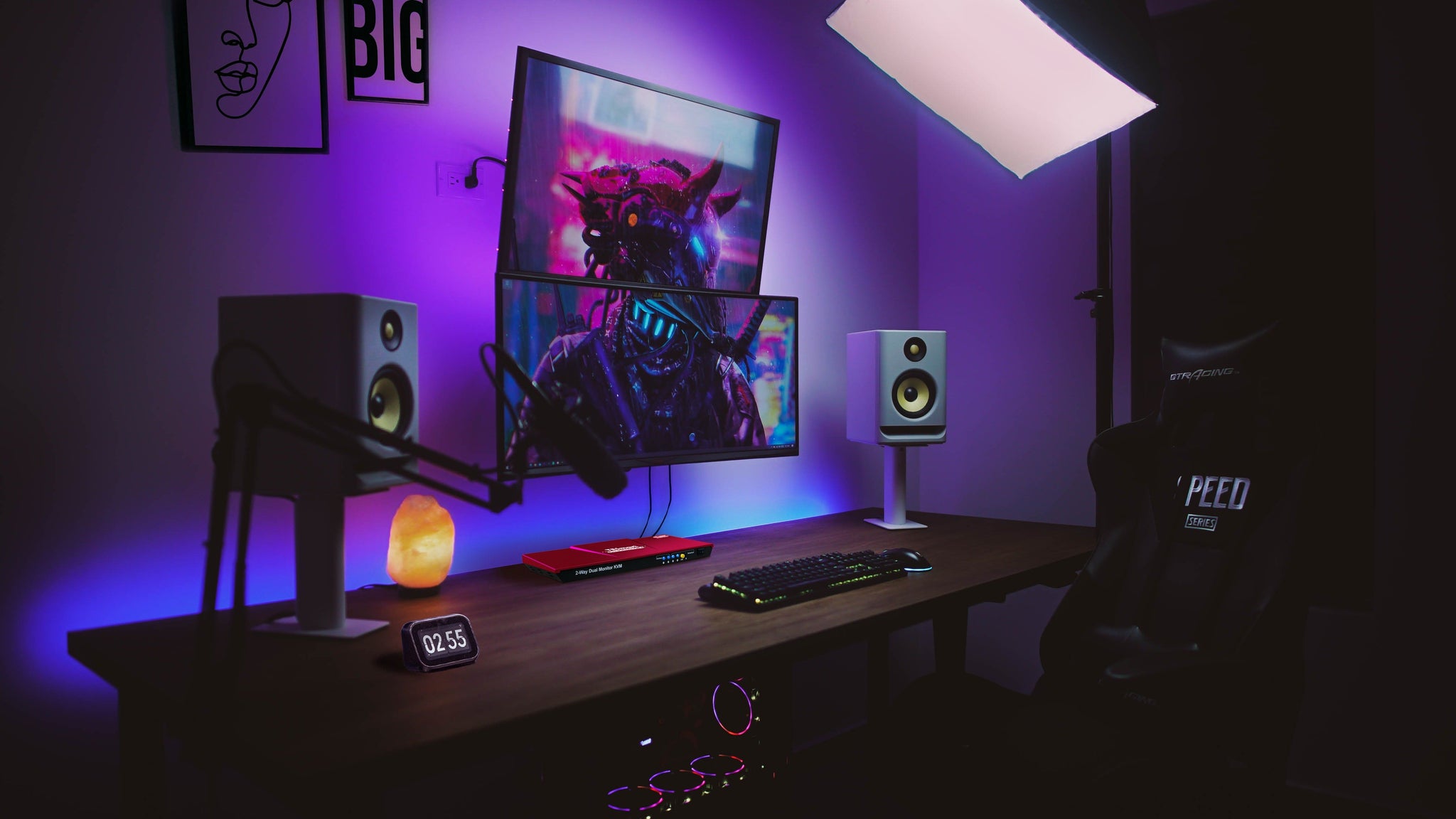 Say No to Complexity, Worry-free Game Switching

Easily switch between multiple gaming consoles
One of the main functions of KVM switches is to allow you to effortlessly switch between multiple gaming consoles. In the past, when you wanted to play games on different platforms, you may have needed to frequently change monitors, keyboards, and mice, which was undoubtedly a tedious task. However, by using a KVM switch, you only need a simple operation to quickly switch to different gaming platforms. This way, you can better manage and control your gaming devices, improving the smoothness and efficiency of your gaming experience.
Convenience of keyboard and mouse functionality
The KVM switch not only enables seamless switching between two gaming consoles but also features two dedicated keyboard and mouse interfaces, specifically designed to support high-end gaming keyboards and mice. Its unique keyboard and mouse pass-through function ensures that when you use hotkeys to switch rapidly between two computers, the performance is as if the peripherals are directly connected to the computer.
Furthermore, our KVM switch is fully compatible with control software from various manufacturers, including but not limited to Logitech Options and Razer Synapse. This means that when using our product, the operation experience will be no different from directly connecting to the computer.
It is worth mentioning that the TESmart KVM switch is compatible with most keyboard and mouse connection methods except for Bluetooth. No matter what type of keyboard and mouse you use, including those with RGB backlighting, there will be no issue of insufficient power supply. Overall, our KVM switch can provide you with a professional and seamless gaming experience.
Zero Latency, Creating Top-notch Gaming Experience

Advanced technology ensures swift switching
With the help of advanced technology and innovative design, KVM switches achieve zero-latency game switching. They utilize high-performance transmission channels to ensure extremely fast transmission speeds of game signals. Every operation responds instantly to your fingertips, allowing you to experience the authenticity and smoothness of gaming.
High-performance chips enhance response time
KVM switches are equipped with high-performance chips, which are key to achieving zero latency. These chips possess excellent processing power and response speed, enabling fast data processing and switching operations during the transmission of game signals. Whether in intense competitive games or immersive solo adventures, high-performance chips can elevate your response time to new heights.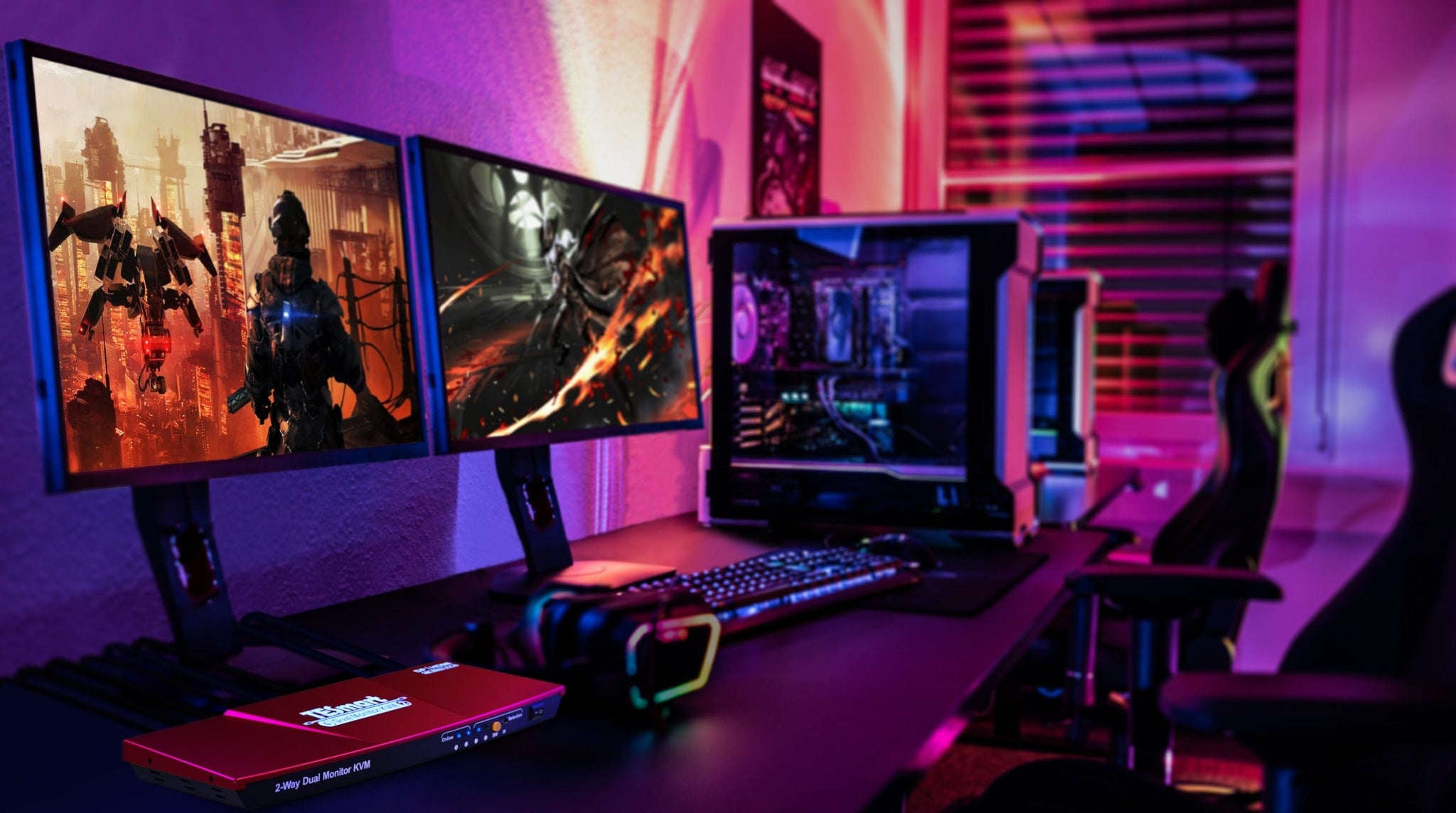 Multi-platform Compatibility, Freedom to Play

Cross-platform compatibility
KVM switches support connections across different gaming consoles and platforms, providing players with greater flexibility and choice. They have multiple input and output interfaces, making them compatible with popular gaming devices such as PC, PS5, Xbox, and more. Whether you're a player who enjoys PC gaming or prefers console gaming, KVM switches can meet your needs, allowing you to easily switch between different platforms and experience the joys of different games.
Convenience of expandable ports
KVM switches are typically equipped with multiple expandable ports to support the connection and compatibility of additional peripheral devices. This provides players with more scalability and flexibility. You can connect audio devices, USB devices, or even additional external displays through these expandable ports, creating a complete gaming workstation. For example, you can connect gaming headphones, a gaming camera, or other peripherals to enhance your gaming experience. The expandable ports of KVM switches offer you more connection options, allowing you to freely choose and accommodate various external devices according to your needs and preferences, bringing more convenience and possibilities to your gaming setup.
Personalized Settings, Customize Your Own Gaming Style
KVM switches offer a range of personalized settings options, allowing you to customize according to your preferences and needs. You can customize shortcuts, switching modes, and display settings to create a gaming style that is unique to you. Whether it's adjusting resolutions, optimizing display effects, or setting special key functions, KVM switches can meet your personalized requirements, making your gaming experience more comfortable and free.
TESmart KVM Switch Recommendations
For Dual-display Setups: HKS0202A2U - The upgraded version of KVM switch designed to provide you with the ultimate gaming experience! It supports dual 4K60Hz displays, requires only one keyboard and mouse, and easily manages two computers and two displays! With various switching methods like hotkeys, front panel buttons, and remote control, the operation is smooth and convenient, allowing you to enjoy the fun of gaming! Moreover, it is widely compatible with all kinds of keyboards, whether wired, wireless, mechanical, or gaming keyboards, it can be perfectly paired! It also has expansion and mixed modes to meet your needs for different computer displays, making every frame of the picture exceptional!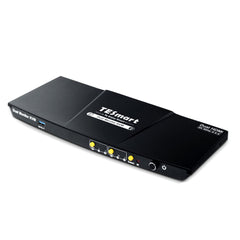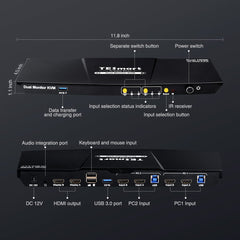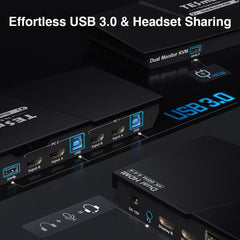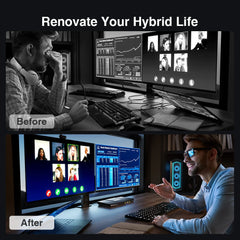 For Triple-display Setups: HKS0403A1U - The top choice for gaming enthusiasts and a must-have tool for professional technical enthusiasts! The upgraded version of KVM switch not only has multiple USB 3.0 interfaces (including USB C and charging functions), LAN ports, and headphone jacks but also supports sharing among up to 4 computers and 3 displays, providing you with a comprehensive gaming experience! Want high-resolution output (4K60Hz)? No problem at all! It also has extensive compatibility, supporting 3D, HDR, HDCP, Dolby Vision, and other features, presenting every frame in breathtaking visuals! In addition, it features one-key lock KVM function to protect your privacy information, allowing you to game with peace of mind. In summary, this powerful and outstanding KVM switch is the ideal choice for gaming scenarios!"