With the rapid advancement of technology, USB (Universal Serial Bus) technology has become a vital standard for connecting modern computers and devices. USB technology has not only made significant breakthroughs in data transfer speed and device compatibility but has also brought new possibilities and convenience to the innovation and application of KVM switches. This article will delve into the innovation of USB technology and the innovation and application of KVM switches within it.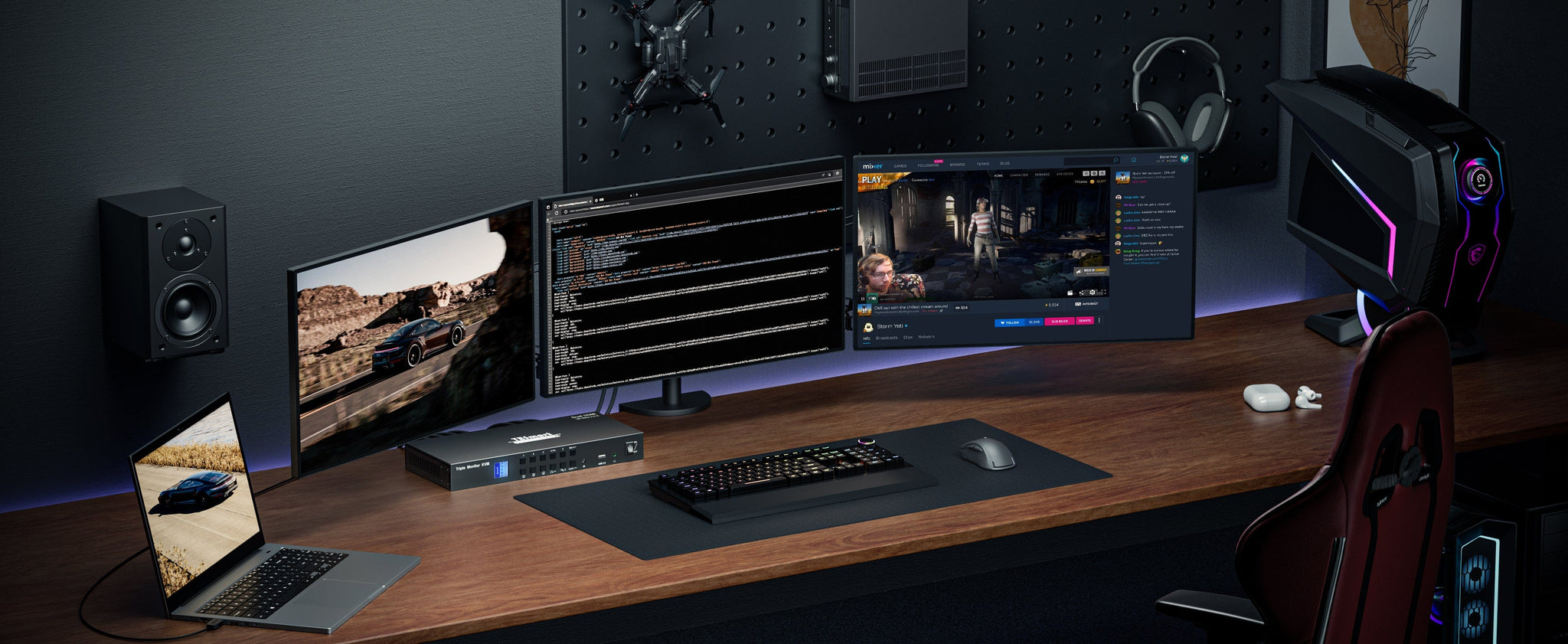 Innovation in USB Technology
The emergence of high-speed USB standards such as USB 3.0 and USB 3.1 has greatly increased data transfer speeds. Compared to the previous USB 2.0, USB 3.0 offers transfer speeds of up to 5 Gbps, while USB 3.1 goes up to 10 Gbps. This means users can transfer large files, HD videos, and other data much faster, enhancing work efficiency and experience.
USB interfaces are not only used to connect common peripherals like keyboards, mice, and printers but also support the connection of various devices such as cameras, audio devices, storage devices, network adapters, and more. This versatility allows users to connect multiple devices through USB interfaces, enabling data transfer, device control, and charging functionalities.
USB interfaces not only facilitate data transfer but also provide power supply to connected devices. With USB power delivery, users can conveniently charge mobile devices, small electronic devices, and other low-power devices, reducing the need for chargers and eliminating cable clutter.
Innovation and Application of KVM Switches
KVM switches not only enable the switching of keyboards, mice, and displays, but also support the switching of devices connected via USB interfaces. Users can swiftly switch the connection of USB devices through KVM switches, facilitating device sharing and management, thereby improving work efficiency.
KVM switches not only switch the connection of USB devices but also facilitate USB data transfer. Users can quickly transfer files, images, audio, videos, and other data through KVM switches, eliminating the need for cumbersome plug-and-play operations and simplifying the data transfer process.
Certain KVM switches also provide USB charging support, allowing connected devices to be charged. This means users can conveniently charge mobile devices, tablets, and other low-power devices through KVM switches, optimizing the charging experience and minimizing the clutter of chargers and charging cables.
By integrating with USB technology, KVM switches provide a more convenient and flexible working environment. Whether in traditional offices, remote work setups, or mobile work scenarios, the innovation and application of KVM switches offer users a more efficient and convenient work experience.

TESmart KVM Switch Recommendations
For Dual-display Setups: HKS0202A2U - This upgraded KVM switch highlights the USB 3.0 technology, delivering an unparalleled user experience. Supporting dual 4K60Hz displays, it enables efficient management of two computers and two displays using a single keyboard and mouse. With smooth and convenient operations, it offers multiple switching options, including hotkeys, front panel buttons, and a remote control. Leveraging the outstanding performance of USB 3.0 technology, it ensures wide keyboard and mouse compatibility, supporting wired, wireless, mechanical, and gaming keyboards.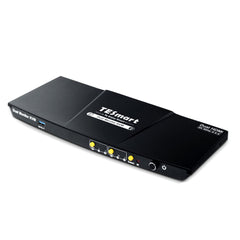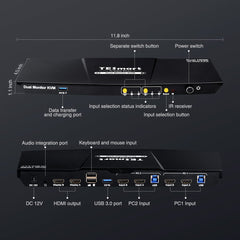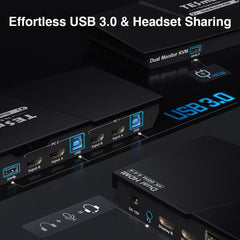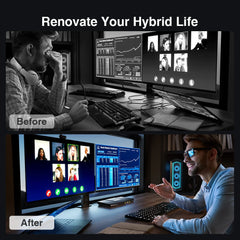 For Triple-display Setups: HKS0403A1U - This KVM switch supports sharing among up to four computers and up to three displays. It offers high-resolution (4K60Hz) output and extensive compatibility (3D, HDR, HDCP, Dolby Vision). With multiple USB 3.0 interfaces (including USB-C and charging functions), LAN ports, and headphone jacks, it meets diverse device connection requirements. The switch provides flexible operation, multiple switching options, and automatic scanning functionality for convenience. Notably, the one-key lock KVM function protects your privacy. Additionally, the user-friendly LCD visual display simplifies the setup process.