HSW0401A1U-USBK
4 Port HDMI Switch 4K60Hz with S/PDIF & L/R
Regular price

Sale price

$58.90
---
Share 1 monitor/display/projector among 4 HDMI source devices.

High resolution up to 3840*2160@60Hz 4:4:4, HDMI 2.0 and HDCP 2.2 compliant.

Support 2 display modes, with EDID emulators in each input port, keeping PCs always having correct information.

Support audio output via S/PDIF optical and L/R AUX interface. Support 2.0/5.1/Auto modes of audio output

Easy to switch input source with IR remote control and panel button.
---
Check if the product's ports match your device.

Number of connectable computers: 4
Number of connectable monitors: 1
Type of input port(s): 4*HDMI
Type of output port(s): HDMI
Max Resolution: 4K@60Hz

Tech Specs
Description
HDMI Switch can greatly facilitate your management of audio and video devices. If you have a home theater or entertainment setup with multiple sources and display devices like game consoles, streaming boxes, and set-top boxes, it can be hard to manage in terms of cables and switching devices.
Our HDMI Switch can help you add more inputs to your TV or AV receiver if you have too many devices to manage. With this HDMI Switch, you can also get original digital audio through S/PDIF optical audio port.
Packing List

1 * 4x1 HDMI Switch
1 * DC 5V 1A Power Adapter
1 * IR Remote Control
1 * User Manual
Key Features

With 4 HDMI inputs and 1 HDMI output.
Support resolution up to 4K@60Hz 4:4:4.
HDCP 2.2 compliant.
Support auto input detection.
Support audio output via S/PDIF optical and L/R AUX interface.
Support 3 modes of audio output.
Support Dolby TrueHD, DTS-HD Master Audio, Dolby Digital and AC-3 audio transmission.
Easy to switch input source with IR remote control and panel button.
Support HDR 10 and Dolby Vision.
Safety Measures

Please use 5V power supply for product installation. Using the wrong power supply can cause damage to the product and even to your equipment.
Cables (including power and charging cables) should be placed and routed to avoid creating electric, tripping or safety hazards.
If product has an exposed circuit board, do not touch the product under power.
Features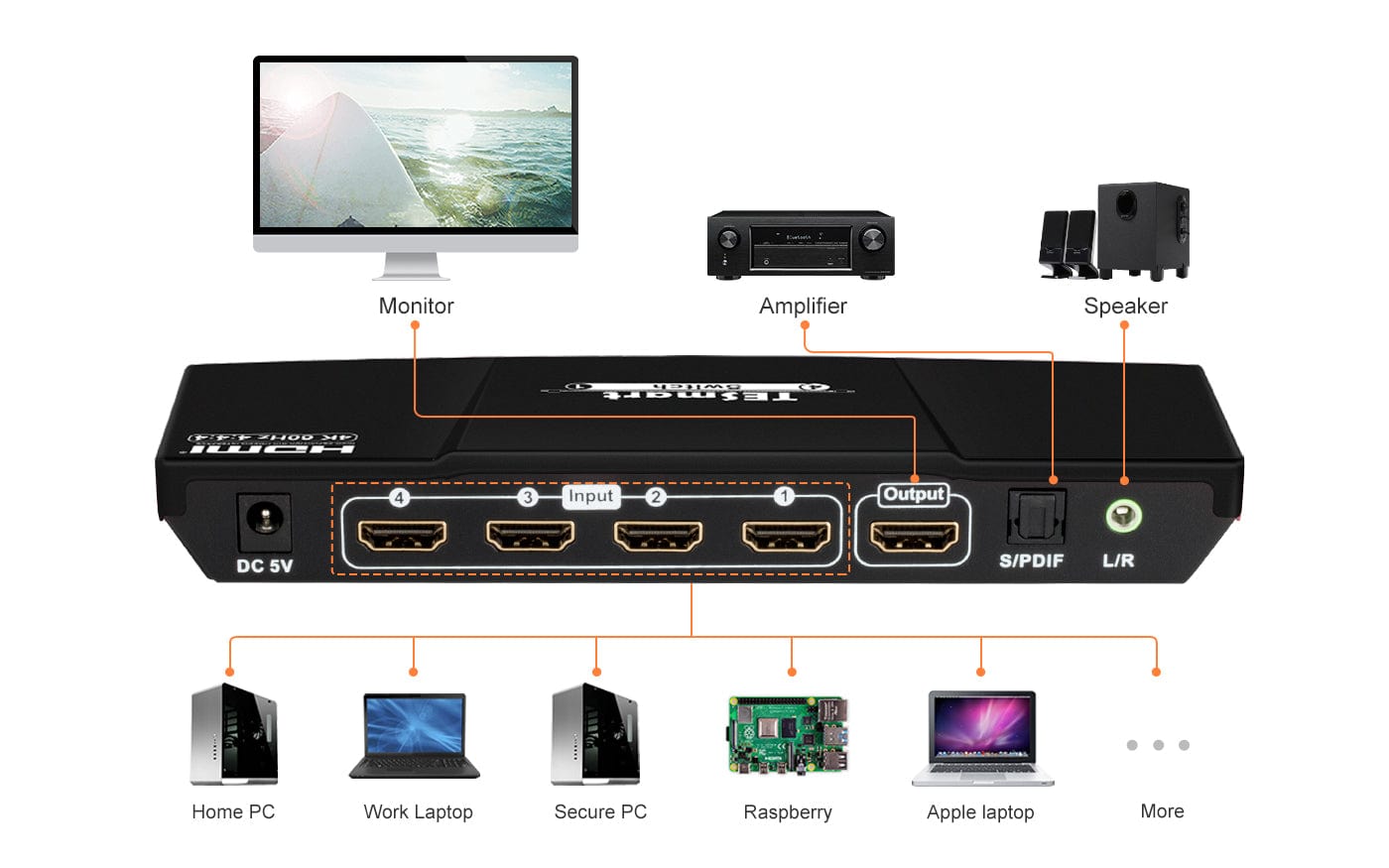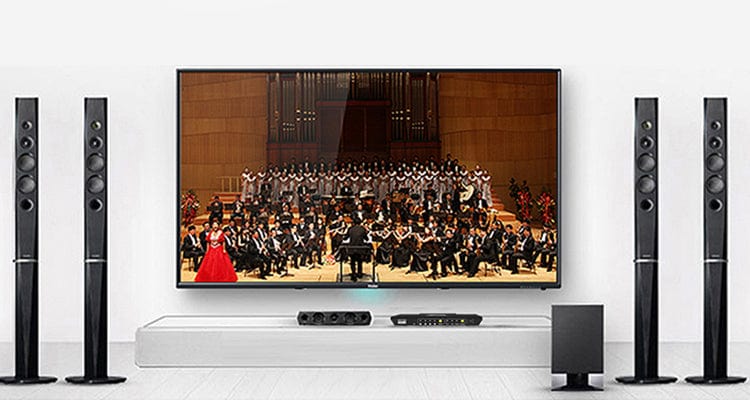 4 in 1 out HDMI switch
This 4 port HDMI switch allows up to 4 Ultra HD sources to be routed to 1 Ultra HD display. It also supports automatic input source detection, when attach new input device to the switch, the switch will switch to last plugged in source automatically.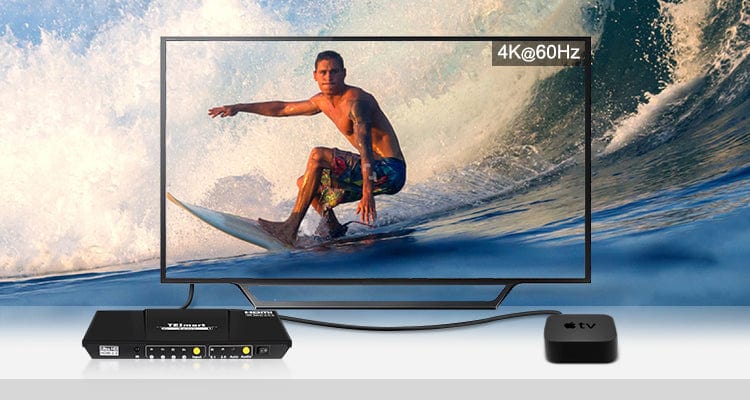 Support 4K@60Hz, HDR
It supports resolutions up to 4K@60Hz, which can bring you a high-definition picture experience. It also supports HDR, with it can shift the color and contrast scene by scene.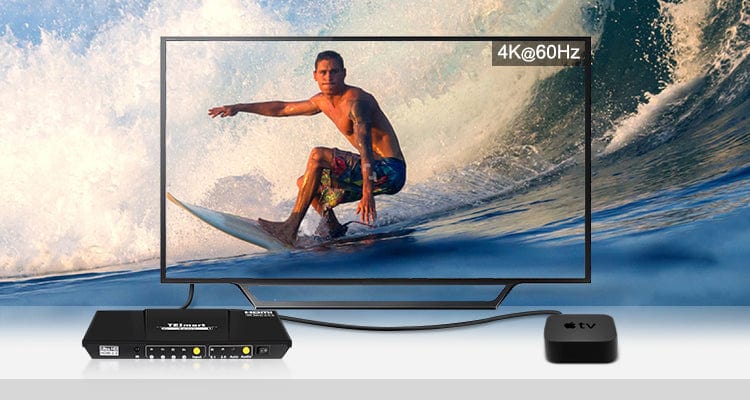 With EDID virtual display
This HDMI switch has EDID emulators in each input port, which helps to keep PCs always having correct display information, prevent display settings from changing while switching input ports.
You'll be glad you bought it
This is the first time I've come across the TESmart brand or used any of its products. I've been using this 4-Port HDMI Switch Box Selector for almost six months now and it's been performing very well all along. TESmart has left a good impression on me. Here's why:
PROS (General)
– Construction is solid and durable with a metal enclosure
– Switches inputs without problems. Video retains quality and audio syncs correctly
– Features source auto-switching mode. It's enabled by default and can be disabled if manual mode is preferred. There's an instructional video for that on this Amazon listing if needed
– Remote control gives it great convenience
MORE PROS (Particular)
– The presence of physical buttons on the unit —including a power switch— is fundamental. Other switches on the market operate only via a remote, making the device useless without it
– All ports are located on the back, reducing cable visibility
– Audio extraction ports allow using a preferred sound system. The L|R channels are correctly wired. I've had devices that swap them, ruining audio/video coherence
– Rubber feet keep it from sliding
– Easy to take apart with exposed screws, in case anyone wants to clean or repair it once it's out of warranty
CONS (Not dealbreakers)
– Lights are way too bright in the dark
– Could use a little more weight. Stiff HDMI cables can lift it from the surface a bit
Perfect for older TV's when simple is key
Got this to help bring an older TV with limited inputs back to life.
Adding a sound bar with one input made this switching device a must. Auto switch works well, build quality is excellent and in general i'm beyond happy with it.
It switches, it handles 4 k, it does everything is says it can.